My first full-time teaching job was in a first grade at a private school here in Chicago over a decade ago.  I had only 15 students, and at the prime age of 22, had more energy and passion for my job than any other time in my career.  The Bookworm Club was a system I developed for my students to motivate them to read at home and at school.
It worked.
The bookworm club drove both our school and home reading programs.  At school, we tracked our read-alouds for an entire year by writing our read-alouds on the bookworm's body parts each day.  On the homefront, parents and students signed a contract to read-aloud each night, and students were rewarded with bookworm bucks when they filled up a bookworm log page.  Bookworm bucks were used to buy books from our classroom store (of which I used massive Scholastic points).
After sitting at a conference that featured reading guru, Jim Trelease, author of The Read-Aloud Handbook, I knew I wanted my class to be hungry about reading.  I considered it my main objective for the year: to turn each student into a voracious reader.
All of my students left reading at or above grade level, and the parent participation was astounding.  Students raced to fill up their log pages, and we read-aloud for a great portion of our literacy block.
Back then, I didn't have funds to make things pretty and teaching blogs didn't exist.  I simply drew out the bookworm by hand. I did the best I could with Microsoft Word, and now armed with Photoshop, this pack is updated and far more aeshetically-pleasing than the fossil I used at the beginning of my teaching career. I unearthed this bookworm log from deep in my teaching files, and it has inspired what I think is our coolest TpT product yet.
Here's the old school example that inspired this pack: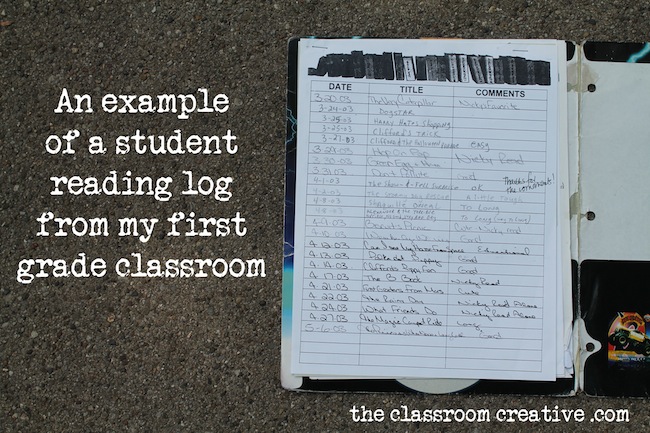 By far, this was one of my successful programs in teaching.  We are super excited to share the new and improved version with you…just in time for back to school! (With darling graphics, by art teacher extraordinare, Mrs. Karen Whiteside!)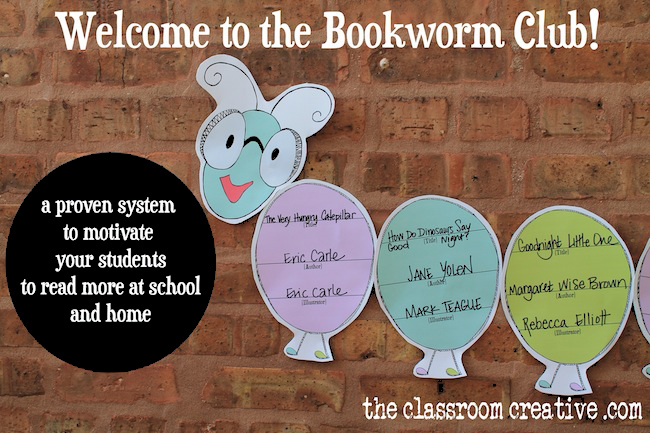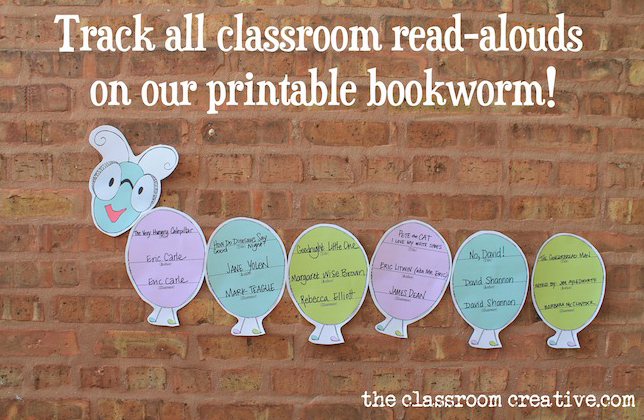 My first and second graders wanted MORE read-alouds, simply to watch him grow.
You could even"race" with other classes in your grade level.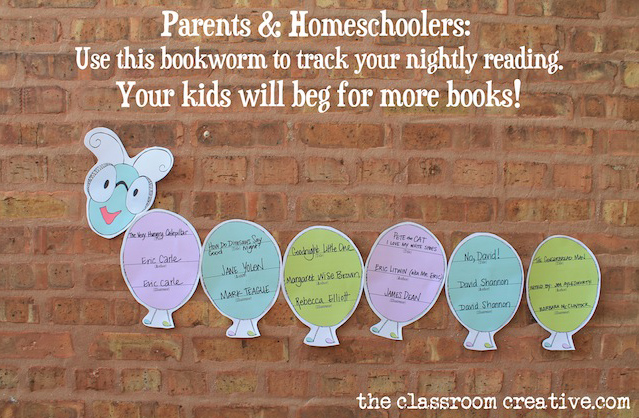 Each bookworm body part features a section for title, author, and illustrator.
How cute are those little feet?
Wait!
The printable decor is only one portion of this pack…
We've also included:

an ideas page on how to implement this system
printable bookworm decor in color and b/w depending on your needs
 printable nightly log to track student reading at home
bookworm bucks in color and b/w to reward filled log pages
student goal cards to have student set objectives for their weekly home reading
student recommendation cards for your classroom library (just like in bookstores!)
bookworm of the week/month awards when students reach their goals
tags for student book gifts at the holidays and the end of the year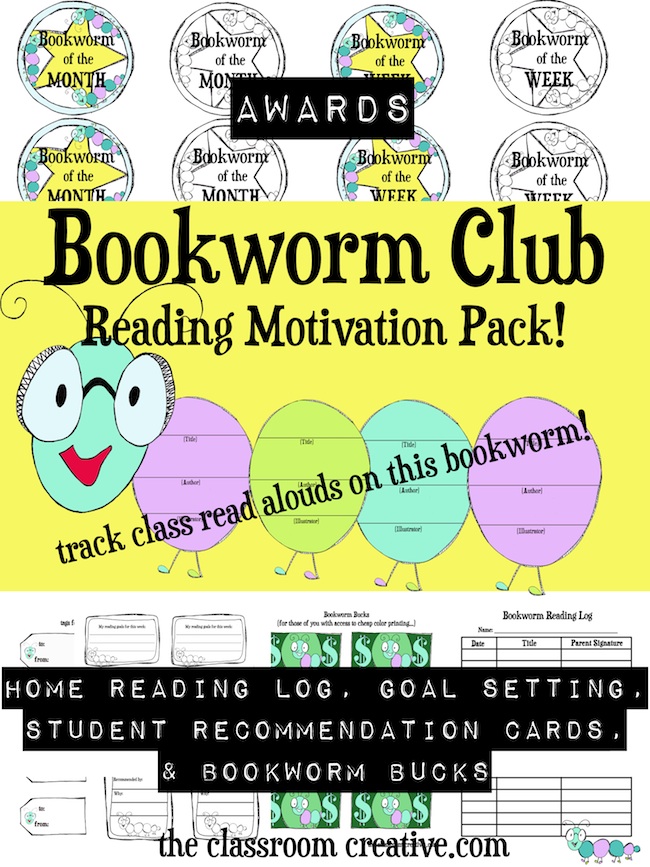 We are certain this program will create a culture of hungry readers in your homes and classrooms.  It worked at my first grade at a private school, and in my second grade classroom on Chicago's west side.
Click here to check it out at TpT.
You may also like…
Adding feathers to a peacock! It can really "Show Off" how much you have read in the classroom. Grab this Peacock Reading Bulletin Board Idea 

HERE!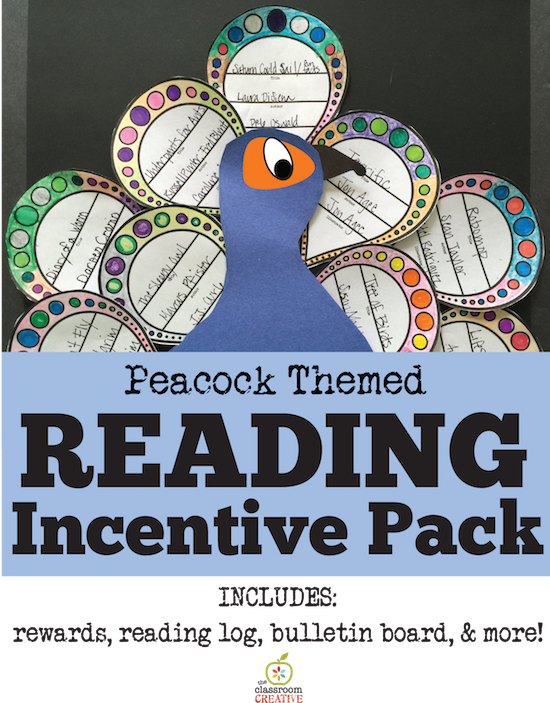 Here is what is inside this fabulous resource!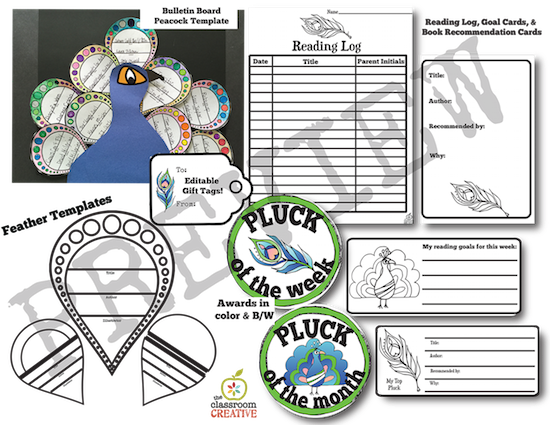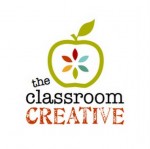 Now that you've fallen in love with us- stay connected with us.

Have a great idea and want to share it? Whether you have a blog or not, we'd love for you to submit an idea here!

Here's to starting the school year off right,

Nicolette & Karen