During writer's workshop, one of my biggest pet peeves as a teacher was "Mrs. L, how do I spell Frankenstein? Santa Claus? Cauldron?"  Even after prompting students to use their brains to "sound it out"…the request kept on pouring in, which often interrupted my revision meetings with students.
To combat this problem, I and  many a primary grade teacher turn to thematic word walls to help students master those unfamiliar words.
To give support to visual learners, we've included illustrations with each of our Fall Word Wall Cards.  Whether you have students who have IEPs, ELLs, or simply need that visual scaffolding, illustrated word cards are the way to go.
This set of fall word wall cards measure 4 inches by 4 inches. To make life even easier for you, we've also shrunk down our images to 2 inch squares to make a perfect portable file folder word wall for your writing center!  It's like two products for the price of one!
Whether these fall word wall vocabulary cards are for your classroom or homeschool, they are definitely a fun way to encourage writing and build seasonal vocabulary!
This set includes 34 fall themed word wall cards sized 4 by 4 inches. Also included are smaller pieces, 2 by 2 inches,  perfect for file folders. The card set can be used on word walls, in centers, as flash cards, or whatever works best for you.  Simply, print, cut, and laminate for a word wall card set you can use year after year. The following words are included in this card set:
acorn
apple
apple pie
autumn
bonfire
branch
cool
corn
cornstalk
crow
fall
farmer
football
forrest
hay
leaf
leaves
September
October
November
mums
pear
pinecones
pumpkin
rake
seeds
scarecrow
squirrel
sunflower
sweater
squash
tree
wind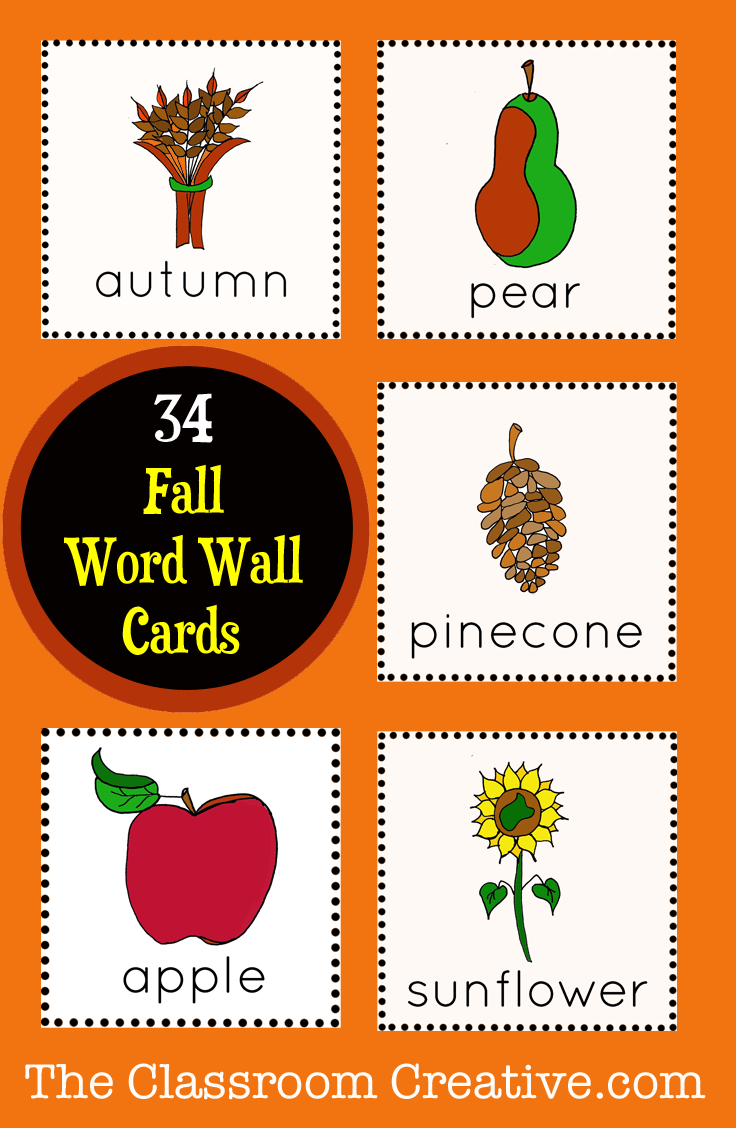 Stay connected with us for the latest and greatest here at The Classroom Creative:

I hope you "fall" for this amazing word wall packet!

Karen