This post is sponsored by Blueprint Social and Dollar Tree.  All opinions are 100% mine.
Here in Chicago, I live walking-distance from my beloved Dollar Tree.  Like any craftminded-teacher on a budget, I've mastered the art of making something from the bare minimum.  When I saw that Dollar Tree hosts a trove of ideas on their site: an insider's guide to crafts, recipes, décor and more known as the Dollar Tree Value Seekers Club-I immediately saw a project I've wanted to try for ages: the decorated magnetic clothespin.

Of course, here at The Classroom Creative, we had to put an interesting spin on the clothespin craft.  You can check out the tutorial for the original clothespin craft over at Dollar Tree's website (actually you can easily print all their tutorials and use them as shopping lists).   Dollar Tree updates the ideas in their Value Seekers Club each month, and of course, membership is free.
So, I popped into Dollar Tree to pick up a few new essentials.  Essentials like washi tape.  Oh, how I love thee.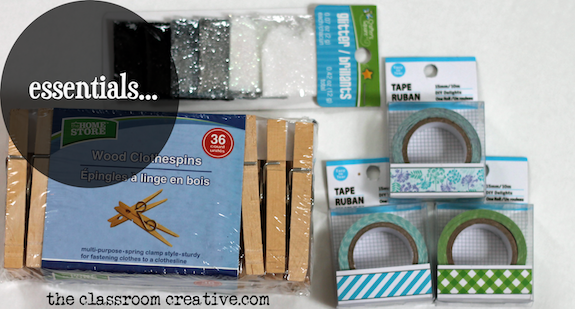 What teacher or crafter doesn't adore washi tape?  Thanks Dollar Tree, I will now pop in on my evening walks to pick up a few rolls each week.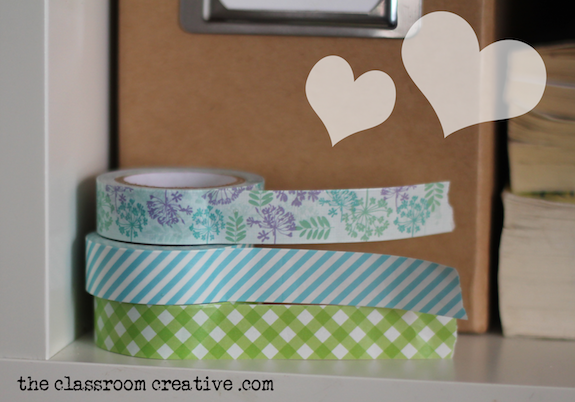 With a little clear glue and fine glitter, I transformed plain washi tape into glittered washi tape.
Glitter makes everything better.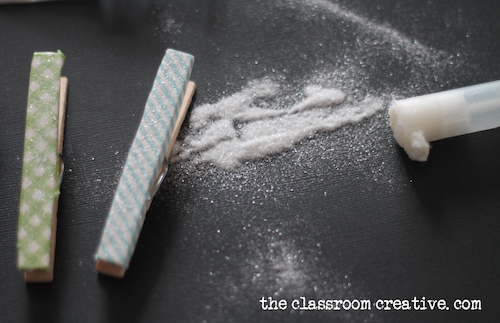 To make this project not only pretty, but functional for our homes and classrooms, I whipped up a few printable labels to adhere to the clothespins.  Also, I used  scaled-down foam board from the Dollar Tree as backing for the labels.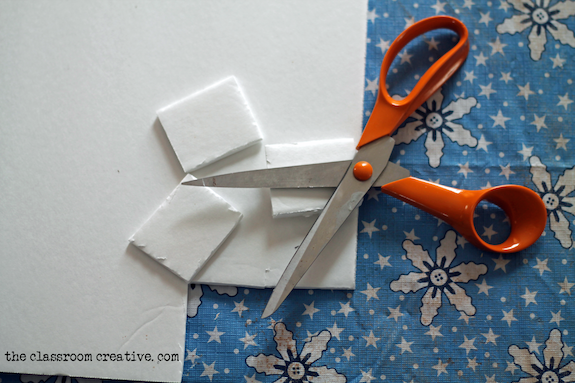 The foam board makes the organizing labels pop out without adding a lot of weight.
For our teacher and homeschooling readers, here's your version of the magnetic clothespin organizers: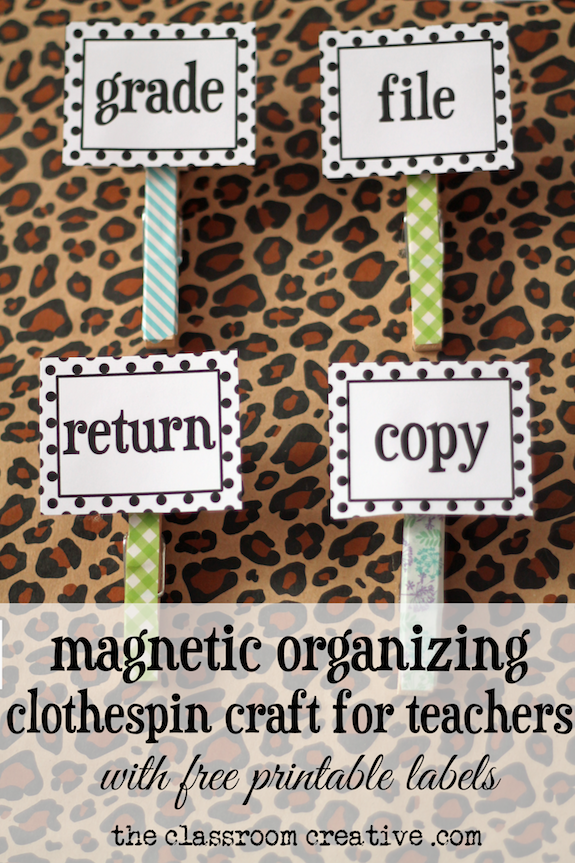 I scored this leopard print craft paper to cover a magnetic cookie sheet.  Dollar Tree, seriously, I love you. For those who have homes to organize, here's your version: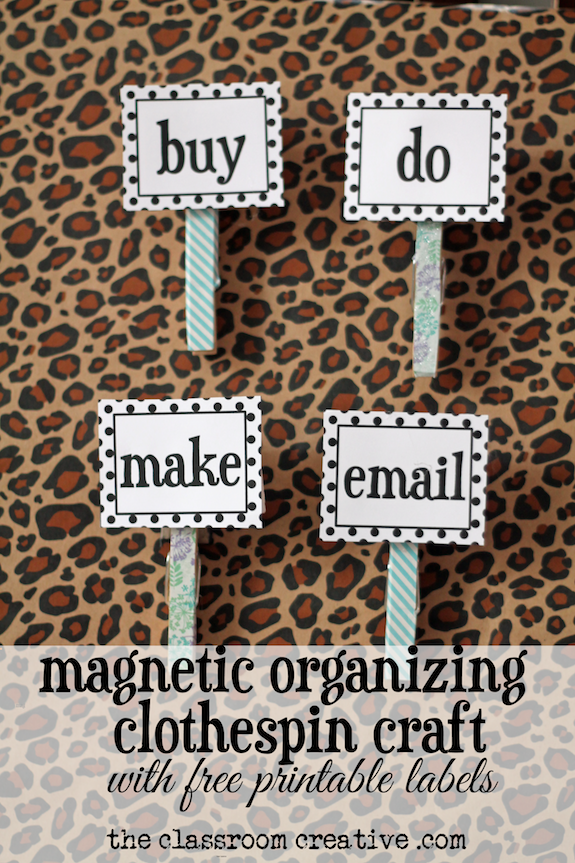 Since January is the month of organizing, we have some exciting news for you: three FREE printables to help you make your own organizing magnetic clothespins, and an EXCLUSIVE CHANCE for one of YOU,  the fine readers of The Classroom Creative, to win $100 gift card to Dollar Tree.
Yes, $100.  We are giving away a $100 Dollar Tree gift card.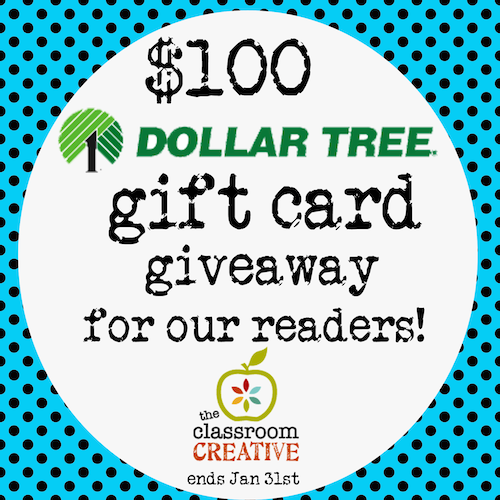 Teachers, this could fund your classrooms for the rest of the year and then some.  Washi tape addicts, you could probably washi tape wallpaper your home.  Crafty-homeschoolers, have at it.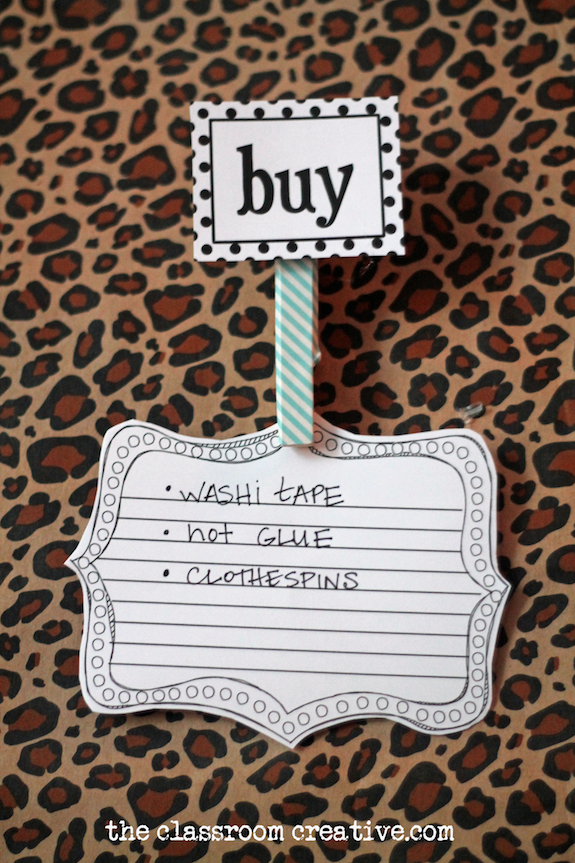 I know in my early teaching days in Chicago's schools, $100 gift card to The Dollar Tree could go a long way. $100 was a BIG chunk of change to make my classroom more functional and frankly, a better learning environment for all.
Imagine how far $100 can go at Dollar Tree. Craft supplies! Stickers! Dice for math centers! Have you seen Dollar Tree's teaching section lately???
Well, our dear readers who need better organized classrooms, homes, and homeschools (which is all of us): here are the freebies we promised.  Just click and download: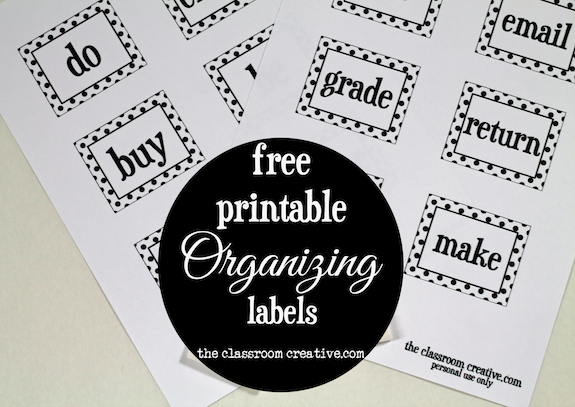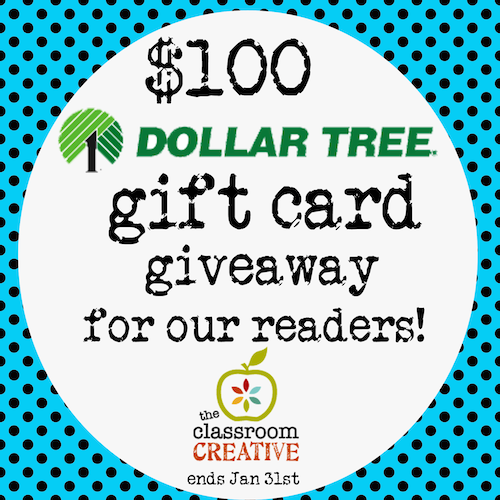 So, you want to know how to enter to win that $100 gift card?  Simple.  Just sign up over at Dollar Tree's website for their idea-loaded Value Seekers Club, and come back here and let us know the email you used in the comments below.
Easy, right?
Exclusive for The Classroom Creative's readers.  $100 Gift Card.  Dollar Tree.  Go sign up stat and get your chance at $100 free dollars now!
Lucky you!
We will choose a winner on January 31st.

Off to make 100 new magnetic clothespins,

Nicolette
sharing @ I heart naptime