Back when I was teaching first grade, many moons ago, I threw an epic classroom Valentine's Day party, that didn't focus on store-bought treats.  Let's not discuss how old those kiddos of my are now, ok?  I'll give you a hint.  They can vote. Holiday celebrations, of course, are a very BIG DEAL to kids.
Now that many schools have moved away from allowing edible treats due to food allergies and wellness policies, some teachers are left scrambling for innovative ideas.   Enter Love-A-Book Day.  It was a smashing success in my primary grade classrooms.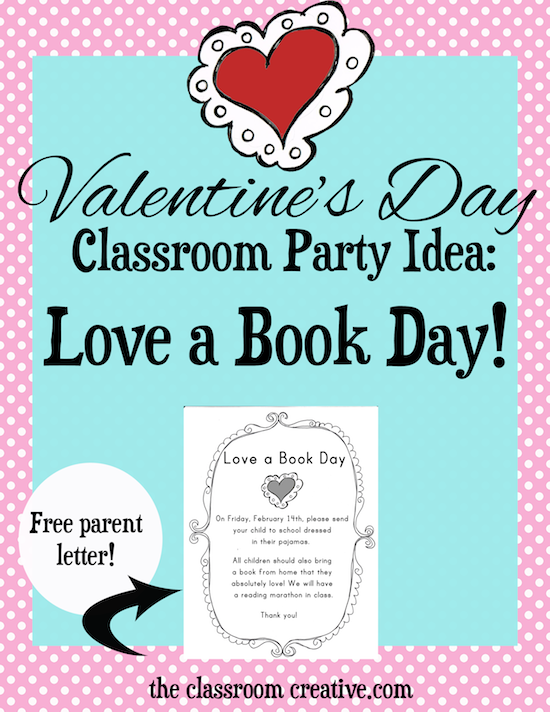 Every student in my classroom brought in their favorite read-aloud picture book and we had a marathon read-aloud sessions throughout the day.  Of course, in our favorite pajamas and slippers.  One year I came with a robe and rollers in my hair.  The kids ate it up.
Valentine's Day is about love, and of course, love of reading is part of that equation.  Some parents even took it upon themselves to donate a favorite book to the classroom library!
New or used, it doesn't matter in terms of books.  We all know how to build a classroom library on the cheap, and books do not have to be fresh from the bookstore to be loved, read, and reread by children.
If you'd like to throw a Love-a-Book Day in your classroom, download this love a book day parent letter to celebrate Valentine's Day, the literacy way, in your classrooms next Friday, February 14th!
Need more resources for your Valentine's Day units?

Check out our Valentine's Day Emergent Reader Bundle

(covers colors, 5 senses and numbers!)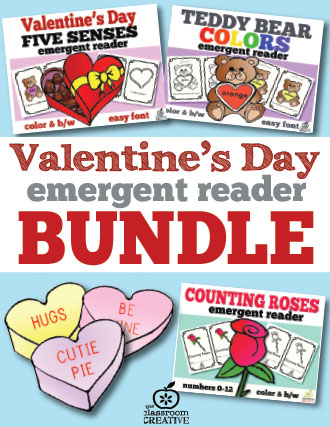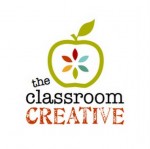 Stay connected with us at The Classroom Creative:

Happy Love a Book Day!

Nicolette
This post my contain affiliate links to Amazon and links to our TpT shop.