Need some new winter-themed books to add to your winter picture book collection?  Below, find our favorite winter read-alouds, along with some winter emergent readers for your children to enjoy.  From snowmen to penguins, here's some of our top picks for winter picture books!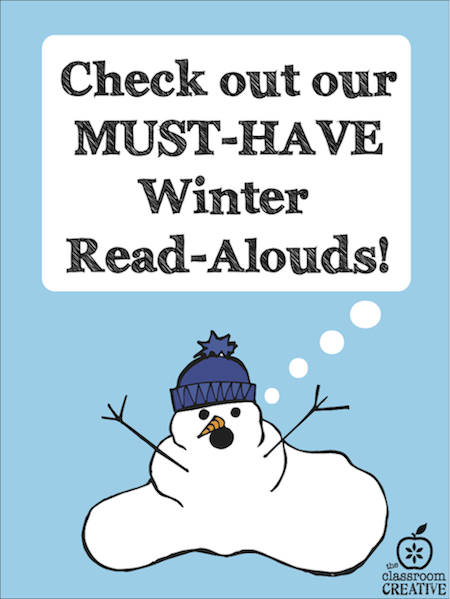 Snow by P.D. Eastman NEVER grows old.  The language is simple, and the graphics are vintage and fun!
Snow by Uri Schulevitz masters the art of amazing illustration and a simple, yet powerful story.  It's great to introduce the concept of perspective: how children view snow versus adults.
Snowmen All Year by Caralyn Buehner is a staple in our homeschool.  I have it committed to memory!
Snowflake Bentley by Jacqueline Briggs Meyer  digs deeps into the life of the man who discovered snowflakes as a science.
Tacky the Penguin by Helen Lester, by far, was the number one read-aloud in my first and second grade classrooms.  This book is SUCH a fun one to read with expression.  More picture books need characters like Tacky!
The Snowy Day Jack Ezra Keats. A classic must-have.
The Snowman Storybook by Raymond Briggs. Another classic must-have.
There Was a Cold Lady Who Swallowed Some Snow!  Not a season or holiday goes by without this old lady shoveling things in her mouth!
Snowballs by Lois Ehlert  These graphics will warm up your kids' imaginations!
Author/Illustrator Gail Gibbons always delivers in the realm of nonfiction!
Check out her Polar Bears' book.
Check out her Penguins!
 book.
Winter Emergent Readers
Karen and I have worked tirelessly on our winter collection of emergent readers, and classrooms around the world have LOVED them!  Below, find our major bundle of printable winter books that cover concepts for ALL beginning readers: colors, 5 senses, counting, animal names, emotions, and more!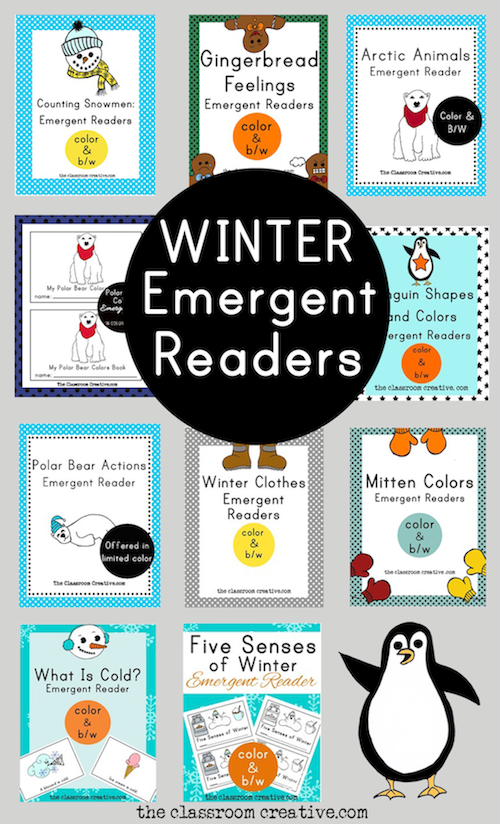 Parents, if you are new to emergent readers: these books are used in virtually all primary grade classrooms. They are perfect for home-use as well! Emergent readers have simple graphics and repetitive text, which make them approachable for preschoolers, kindergarteners, first graders, second graders, and kids with special needs.  Our entire collection comes in color AND black and white!  You can give this smaller bundle a try!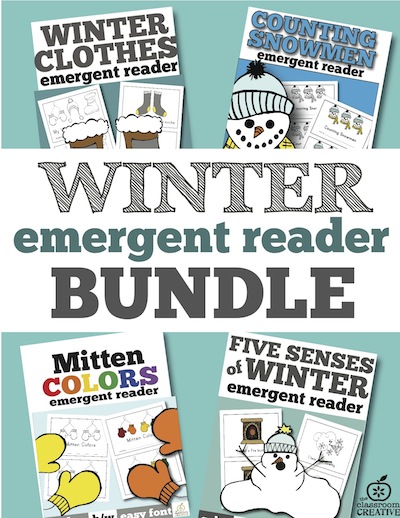 Stay connected with us at The Classroom Creative

Bundle up and read!

Nicolette
This post may contain affiliate links to our TpT shop.