Halloween is just a few weeks away, and it's time to incorporate the fun of Halloween into your classrooms during math centers.  Our Halloween Math Centers pack focuses heavily on counting, number sense, early addition skills, and of course, PLAY.  This Halloween Math Center Pack  is designed for kindergarten common core, but it would also make great enrichment work for preschool and remedial work for first grade or special education.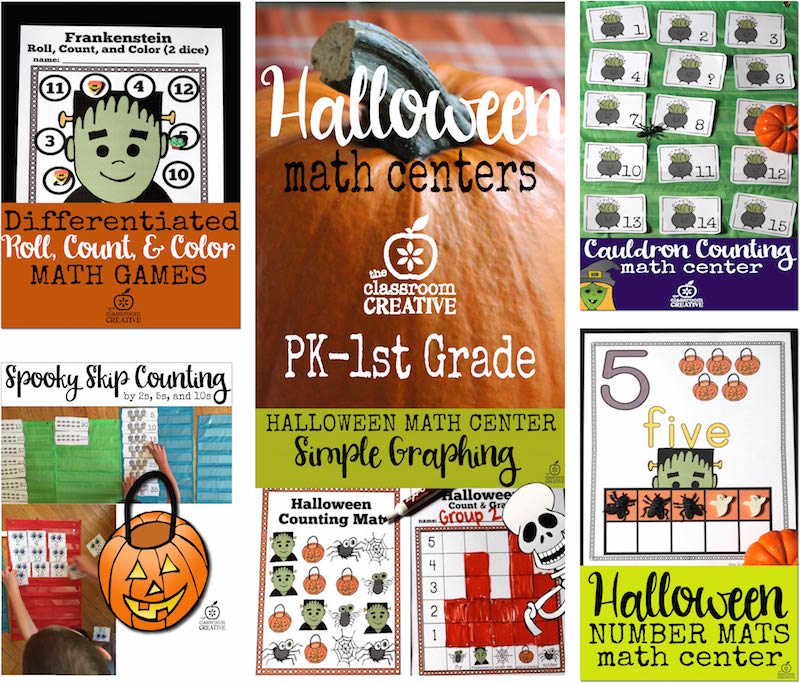 Let's take a tour of all this Halloween Math Center pack has to offer your classrooms this October.  Best of all, the entire pack is in color AND blackline!  At the end of this blog post, stay tuned for a tasty appetizer (freebie)!
ROLL, COUNT, and COVER
First up:  Our differentiated Roll, Count, and Cover with Mr. Frankenstein.  Use 1 die to focus on your learners who need more support in turn-taking, one-to-one correspondence, and following directions.  I have used this game with my special needs son, and the bold font helps his visual processing issues.  Use a large die for this subset of students.  You could even velcro the dots for added visual support.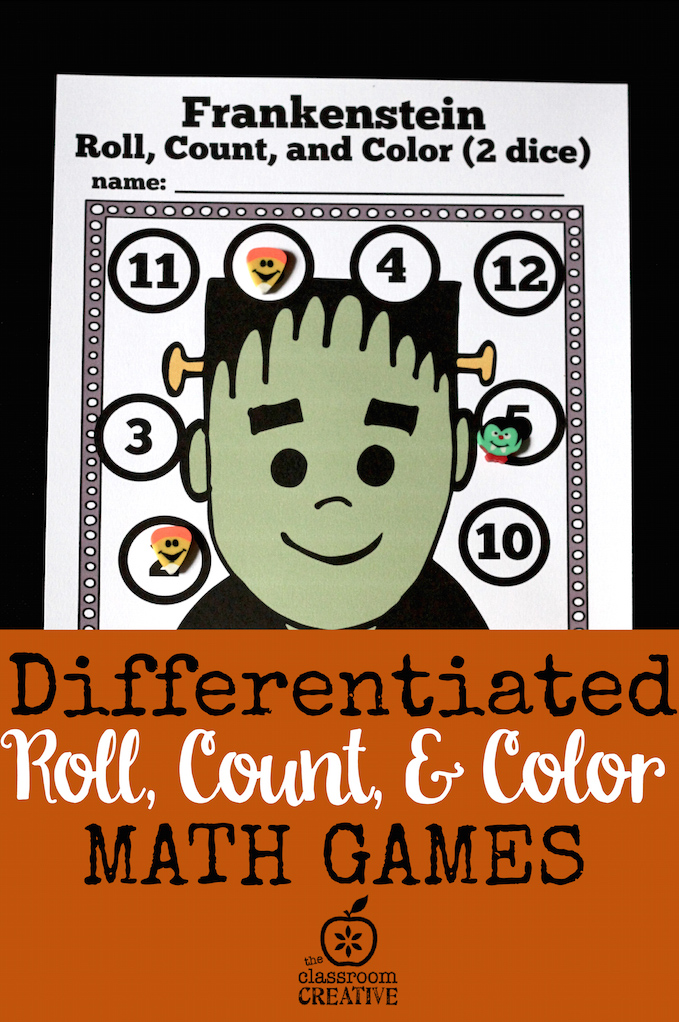 For students who are already adding within 12, there is an additional page using a pair of dice.
SIMPLE GRAPHING
Teaching data measurement and graphing  in my humble opinion, is one of the key components students need in math education.  The business world breathes analytics, and our little ones need to be well-versed in data analysis!
This graphing activity introduces the basics without be visually overwhelming.  We offer it in color and blackline depending on how you choose to use it.  Blacklines are great for consumables.  For the color version, pop in a sheet protector for a math center you can use and reuse all October!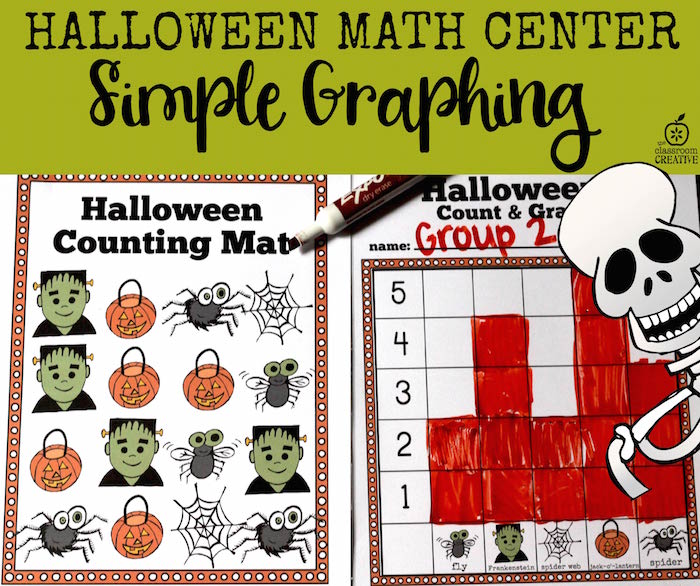 COUNT and CLIP CARDS
Make counting hands-on with our count and clip cards.  This is also great for kids who are struggling with writing numbers and fine motor work.  For even more fine motor work with stronger resistance, use binder clips in lieu of clothespins.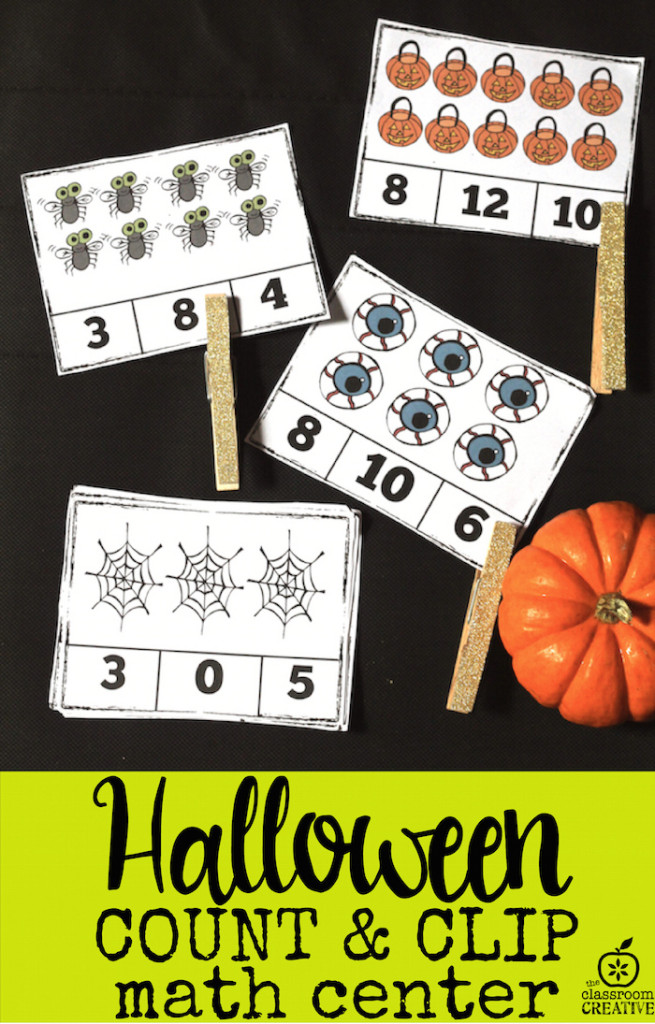 HALLOWEEN SKIP COUNTING FUN

!

This center is perfect for small group work, skip counting in your morning meeting, and hands-on pocket chart fun.  Don't limit your pocket charts to walls, have the kids sort and enjoy this math center out of their seats and ON THE FLOOR!

By 2s…the spooky eyeballs will delight.

By 5s…the haunted gravestones will chill the night…

by 10s…the creepy spiders will give a fright…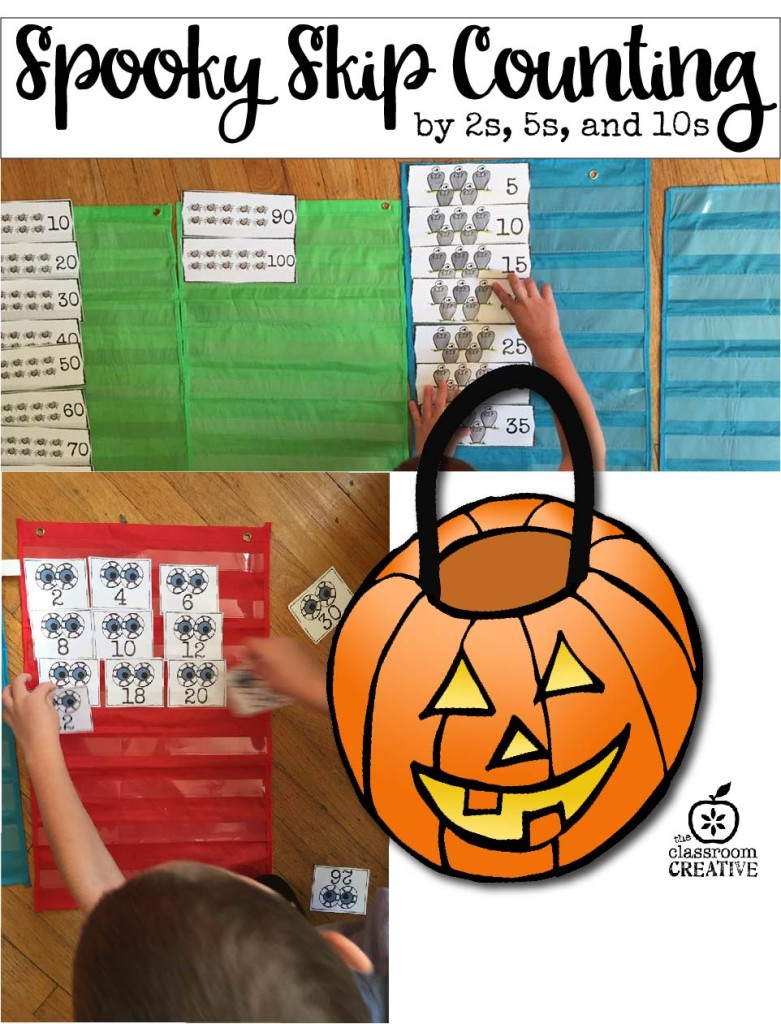 ORDERING NUMBERS with CAULDRONS
Whether counting forward or backward, ordering numbers on a number path is a critical component to early number sense.  Make it fun!  We've included both question mark cards and write in the number cards so students can guess the missing numbers.  This is perfect for pocket charts. There are many more uses for these cards as well.  Print two copies and have student use them for simple adding, subtracting, making ten, and doubles!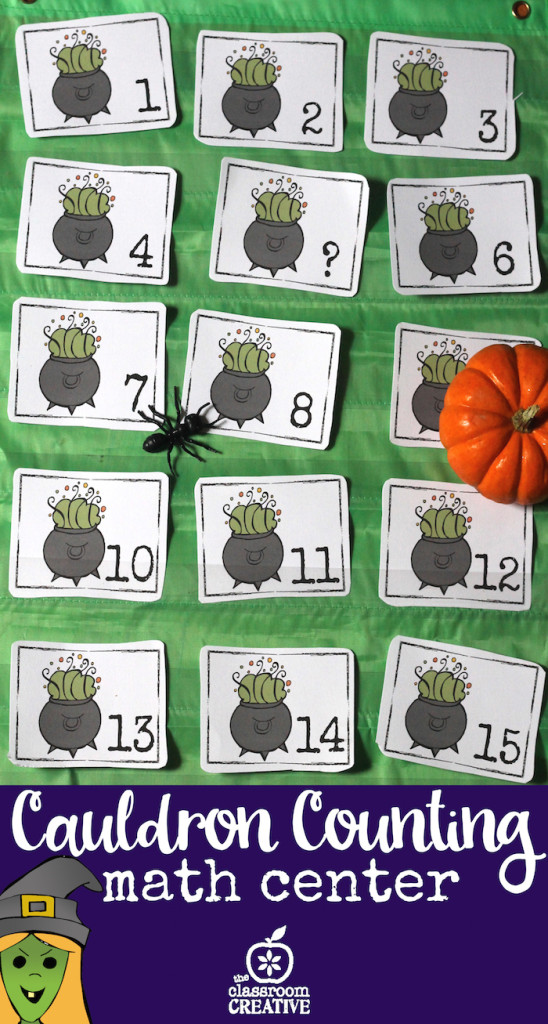 HALLOWEEN COUNTING MATS
The possibilities are endless with these counting mats.  Use them for one-to-one correspondence work.  Use them to "make ten" or any of the numbers 0-10 provided.  We have scaffolded the pages for the earliest learners.  One set of the ten frames are blank for more of a challenge.  We've also differentiated a set of the number mats to have a visual cue for the number.
Use with play-doh, halloween erasers, small treats, stickers, spiders, etc.
I place my copies in page protectors and use a ring clip to hold them together.
For one of my students, I use this to have direct one-to-one correspondence.  For other students, we are using the ten frames to "make the number" in a variety of different ways using two different sets of halloween erasers.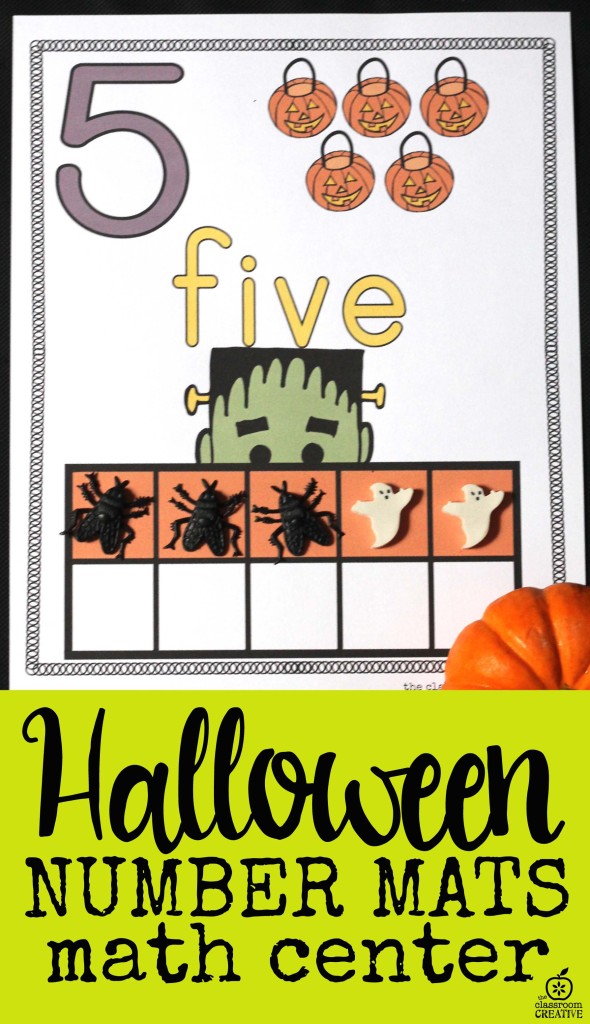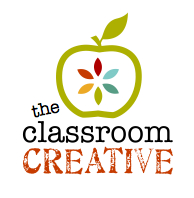 Stay connected with us at The Classroom Creative:

Happy fall!

Nicolette