Bulletin boards work best for students when they can engage with them! For this Thanksgiving, I created an interactive turkey bulletin board that features a boatload of Thanksgiving illustrated vocabulary wirds.  This bulletin board idea would be perfect for a small space near a writing center.  For homeschools, this would be ideal if displayed eye-level with your children!
For those of you who are "artistically-challenged"-never fear! I am in the midst of creating this Turkey Tom in template form, so you can simply print, color, and be on your way to creating this November fun alongside your children!  I hope he will be up by tomorrow night at the latest!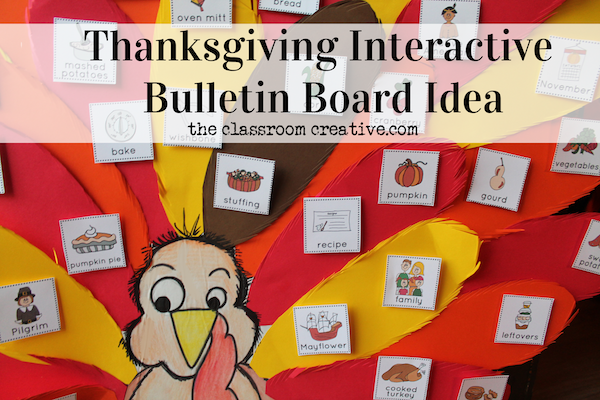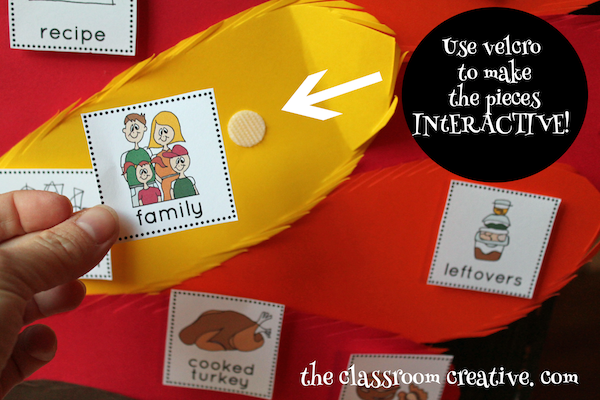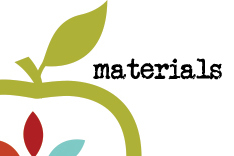 cardstock (bought with a 50% coupon of course!) in red, orange, yellow, and brown
velcro (not going to lie…also bought with a 50% off coupon)
watercolor pencils
stiff paint brush and small amount of water
fine point Sharpie in black
foam board from the dollar store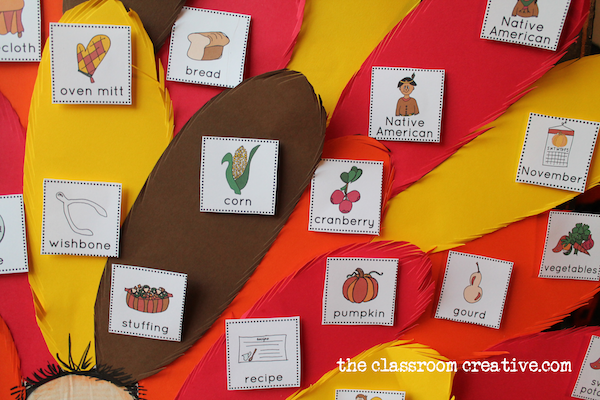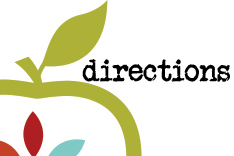 1.) First free-hand the turkey's body.  If you hate to draw, download our  *FREE* turkey body and feather template (coming tomorrow!).
2.) Ink the outline with a sharpie. Then lightly sketch with the watercolor pencil in brown, orange, yellow, and red on the appropriate parts for Turkey Tom's body.
3.) Elicit help for the feathers. I cut out about 20.  I also snipped the edges to make them more realistic.
5.) Use velcro to adhere them to the feather, so students can take off the cards they need to spell for their Thanksgiving Writing Projects and November Writer's Workshops!
Thanks to the lovely Karen of the Classroom Creative for creating such incredible Thanksgiving Word Wall cards!