Need great ideas for your apple unit? We've rounded up our favorite apple picture books and have also paired them up with a variety of activities.  From fiction to non-fiction, the apple-themed picture books will engage your preschool through second graders!

Apple Emergent Reader
Apple Counting by The Classroom Creative.  Engage your earliest reader with this simple one to one correspondence counting book. Available in both color and black and white. This emergent reader covers numbers 0-10.
Apple Picture Books
Apple
 by Nikki McClure  Wonderful graphics, with incredibly simple language.  The pairing of one word with her graphics will make for a lively discussion! Create your own apple pairing with our apple craft.
Ten Apples Up on Top!
 by Theo Le Seig. Your kids will be giggling and counting apples in this fun book about three friends who see what they can do while balancing apples on their heads. Have your children or students create and count apples with this fun apple craft idea.
The Seasons of Arnold's Apple Tree
 by Gail Gibbons.  A must-have for any classroom's apple unit.  It follows a boy, Arnold, and his apple tree. See how he interacts with his apple tree through each season!
The Apple Pie Tree
 by Zoe Hall. A sweet story about the apple tree and how it is a home to the robins.
Science & History Apple Picture Books
Apples A to Z
 by Margaret McNamara. An alphabet book with loaded with apple facts from A to Z.  The illustrations of the animals engaging with the alphabet make for multiple reread
How Do Apples Grow?
 by Besty Maestro. This book takes you through the life cycle of the apple.
Apples
 by Gail Gibbons.  Full of apple types, a little history, and the basic parts of an apple. This is a tried and true favorite in the classroom. This book has a cute section on apple baking, accompany this book with our writing activity: How to Bake an Apple Pie via our TpT shop.
The Life & Times Of The Apple by Charles Micucci. A factual book of the apple life cycle and interesting facts about the apple.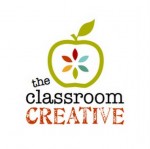 Stay connected with us at The Classroom Creative:

I'm just apples about reading!

Karen
This post my contain affiliate links to Amazon, links to our TpT shop, TN shop and Etsy shop.