Classroom Libraries.  We all need them in our classrooms to grow our students into voracious readers.  I have many secrets that I will share tomorrow on how to grow your classroom libraries on a dime, because let's face it, it takes many moons to build a decent one.  Over the past decade, I have collected over 3,000 picture books.  I will show you these library labels in action as soon as I find some new study bins that I love!
I'm thrilled to share this pack with you all, because I know it takes a great deal of time to make these. Back in the day, I made some rudimentary labels with bad fonts and stock clip art.
We've come a long way, baby.
I hand-illustrated and digitally colored 90% of the art in this pack (with my lovely co-editor Karen doing the adorable frame and a few of the pieces) and honestly, it took me weeks to get it right!
Now presenting…a classroom library pack (with a little appetizer for free!) for preschool, kindergarten, first grade, second grade, and I'd gather to say some third grades, depending on the reading levels of students.  I've downgraded the quality of the art in the collage to deter the scrapers and thiefs, but the pack is 300 DPI, so the labels will print crisp.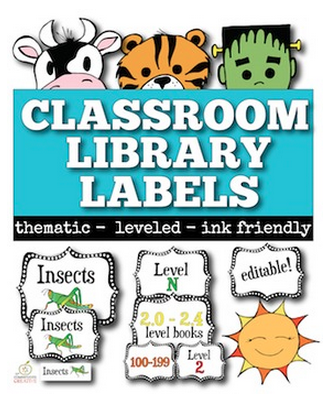 Now, onto the appetizer!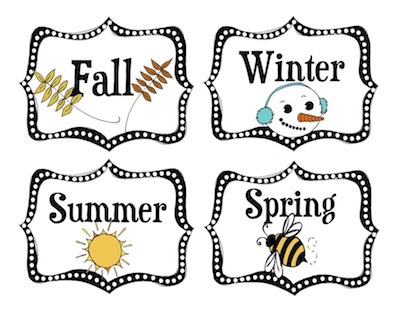 You can grab the
Free Printable Seasons Labels
 here.  Use this freebie to make an easy season chart for your morning meeting or math calendar area!
 Stay tuned.  I'm on the hunt for new bins, and I can't wait to show you my library adorned with this little beauties.  Weekend project, anyone?