Believe it or not, Mother's Day crafts are not easy to find on the web! Maybe it's because all of us mothers are the ones doing the crafting most of the time.  Regardless, this flower pot pen craft is perfect for the mom without a green thumb or for moms like me who are always losing pens.  Aside from Mother's Day, this flower pot pen is also perfect for handmade teacher gifts.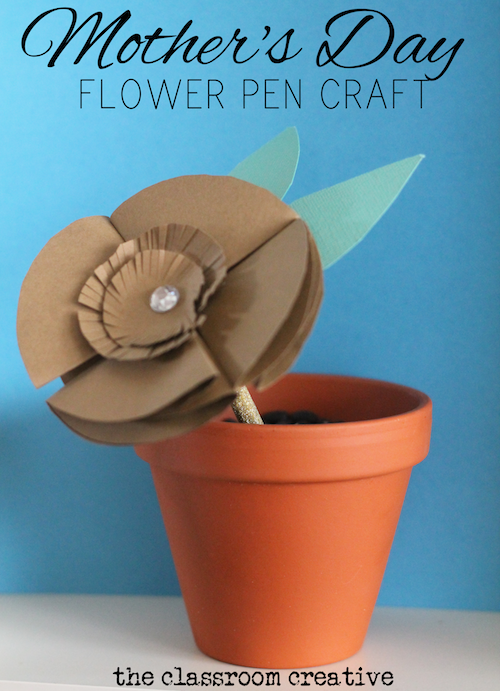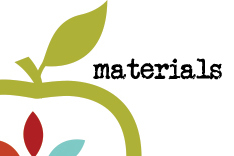 glitter tape
pen
pipecleaner
gluestick
craft-colored and teal cardstock
scissors
terracotta pot
black beans
rhinestones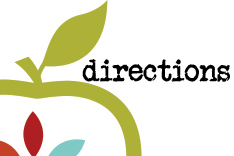 Wrap pen in the glitter tape.
Have students cut six circles (3 inches across), two small circles (1 inch across) and two petals.
For four of the circles, simply crease in half and then fourths, adding a dot of glue to secure the petals.
Glue the fourths onto a circle to make the flower's base. (Here's a perfect mini-lesson on fractions!)
In the last large circle, snip a cross in the center, and snake a pipecleaner through the cardstock circle.  Knot the pipecleaner and tape it down.
Wrap the other end of the pipecleaner around the top of the pen. Cover the exposed pipecleaner with glitter tape.
Generously glue the base of the flower to the secondary base with the pipecleaner.
Snip the edges of the two smaller circles to show texture. Glue them in layers in the center.
Glue a rhinestone in the center.
Fill a terracotta pot with black beans.
Place pen in the pot.  Done!
Here's a picture-based tutorial on how I made this flower pen.  See, we even "differentiate instruction" for our readers! 🙂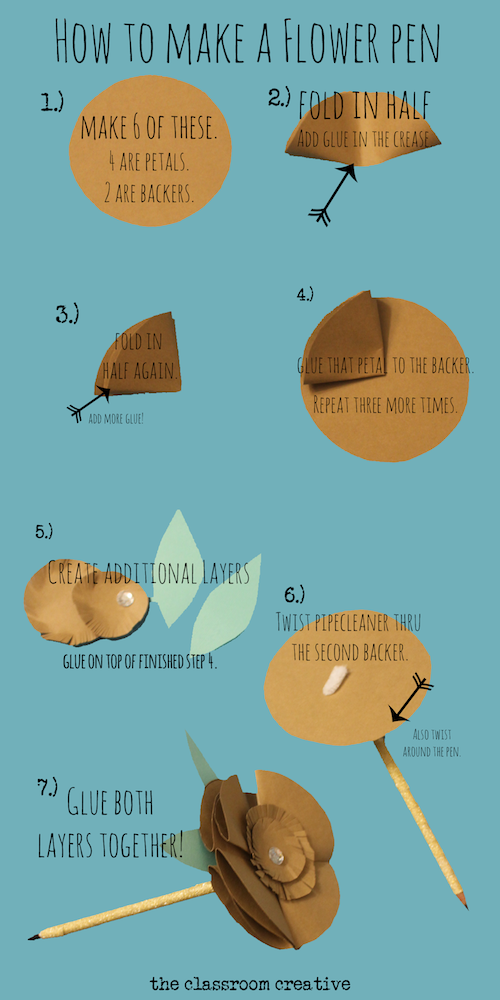 You could also have the children glue a photo of themselves in the center of the flower, should you have extra school photos sitting in your desk.
Find out which student of your has a secret agent mom with our Mother's Day Secret Agent Writing Activity!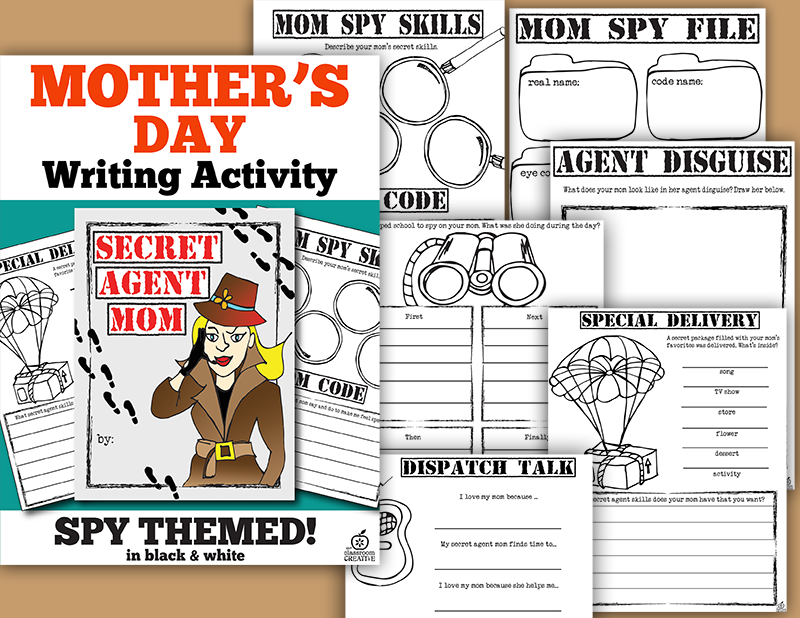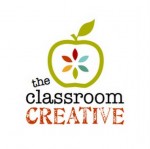 Stay connected with us at The Classroom Creative:

Hope this inspires you this Mother's Day!

Nicolette

Sharing @Tatertots&Jello
(This post my contain affiliate links to Amazon and links to our TpT shop.  Thank you for supporting our blog.)