After the great response to our Mother's Day Fortune Cookie Craft, I thought we'd make a teacher edition, because Teacher Appreciation Week starts a week from today, Monday May 5th!  Here's a handmade teacher appreciation gift idea that also incorporates the best teacher gift idea ever: resources from TpT!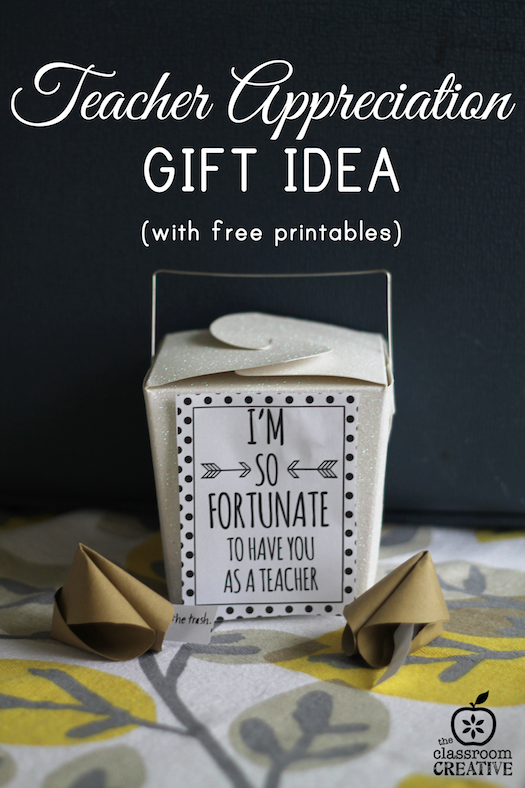 I think you could approach the "fortunes" in this craft one of two ways:
1.) Fill the fortunes with as many things you adore and appreciate about your teacher.  Of course.
2.) Fill the take-out box with small pictures from the school year.
3.) Fill the take-out box with end of the year goodies to help out your child's teacher.  You could print our end of the year medals or give them to him/her on a jump drive! (You can pick up a jump drive these days for less than $5!) You could also just email the e-books as well, to make it even easier! We also have super cute end of the year class books (most classes generally do memory books in May/June with their students to wrap up the year).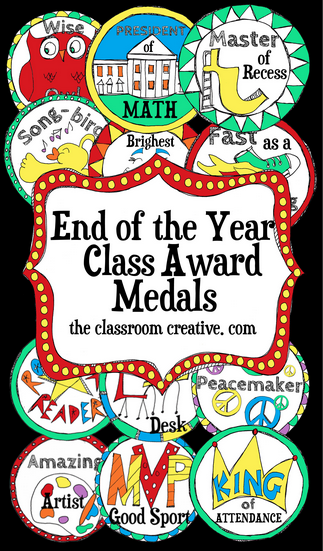 I gave my sons' teachers TpT gift cards and they were a hit! Teachers spend a LOT of money out of pocket on resources.  I know I personally spent in the THOUSANDS my first few years in the classroom. Teachers Pay Teachers is THE place to be if you are in education.  Think Etsy for teachers.  Most teachers I know lose sleep going on that site-it is as addictive as Pinterest.
Teachers need time and energy.  TpT gives them both BACK.  🙂
 Now, onto the craft!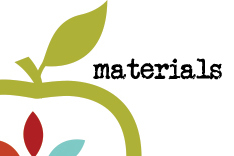 cardstock (in craft paper color)
 cardstock (in white cut into small fortune strips)
 3 inch circle template
 chinese take-out box
 glue stick
 scissors
 clothespins
 sharpie or archival ink pen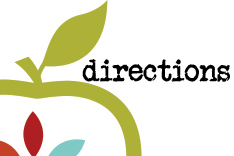 *Note: Learning HOW to fold these paper fortune cookies was a painful experience for me.  See the outtakes below.
Here's the method I found best.
1.) Taco fold the circle.
2.) Pitch the center in.  Adjust the center if need be.
3.) Glue and clip with a clothespin.
4.) Allow to dry.
5.) Shimmy and insert the fortunes after the fact.
You will ruin a few of these paper fortune cookies until you get the hang of it. Trust me.  Put something relaxing on your Spotify when you first attempt this.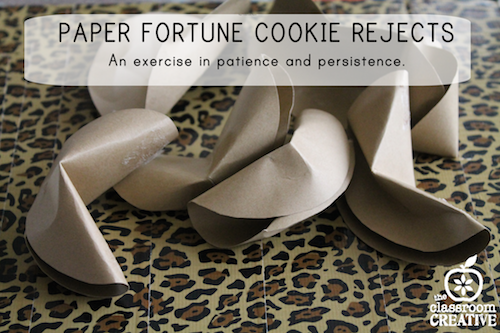 But in the end…you will be pleased.  Promise.
Here's the free printable:
free printable tag and fortunes (teacher edition)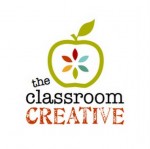 Stay connected with us at The Classroom Creative:

We are "fortunate" to have you as readers!

Nicolette

sharing @Tatertots&Jello
(This post my contain affiliate links to Amazon and links to our TpT shop.  Thank you for supporting our blog.)