Often pumpkin and scarecrow crafts receive a lot of attention in fall, but we want to highlight a lesser used craft material for fall: the acorn. To help decorate for autumn, my son created this adorable acorn craft. This mixed media fall art project can be differentiated across many grade levels and ages. It's straightforward enough for a preschooler but also could be adapted as a challenging measurement activity for third graders. Make multiple acorns for a garland, or display them on a bulletin board.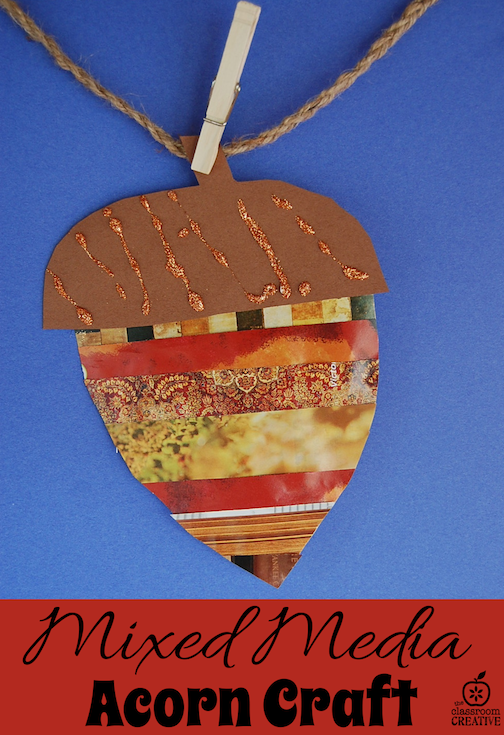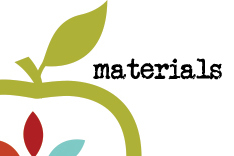 magazines

glue

scissors

glitter

construction paper

ruler

paper cutter (depending on the child's skill level)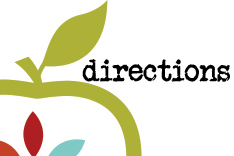 Download my acorn template.

Cut off the top part of the acorn template. Glue it to brown construction paper and cut out the acorn top.

With glue, draw 

diagonal

 lines on the top of the brown construction paper acorn top. Add glitter. Set aside to dry.

Find brown, gold, and orange pages of magazines.

Cut the magazine pages into one inch strips. 

Flip the bottom half of the acorn template over. Measure and glue the strips of magazine onto the acorn. Vary the pattern. 

Flip it over and cut on the acorn template.

Glue the top half of the acorn to the bottom half. Display!
For preschoolers and kindergartners, talk about how to lay the strips of magazine paper horizontally. For first and second graders have them lay the strips half an inch apart. To make this very challenging have student's measure wider as they head up, a 1/4 of an inch, to 1/2 an inch etc…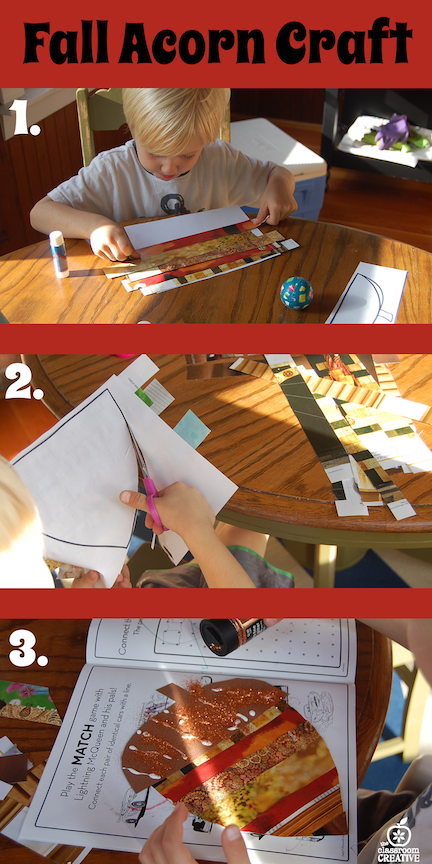 If you LOVE acorns and want something to celebrate fall in your classrooms and homes, check out our FALL ACORN BUNTING!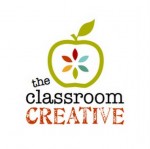 Stay connected with us at The Classroom Creative:

Happy fall measuring or crafting!

Karen
This post my contain affiliate links to Amazon, links to our TpT shop, TN shop and Etsy shop.