One of our readers asked us advice on how to differentiate writing for her kindergartener.  Our reader was told that her daughter needed more support in writing.  Anyone familiar with the new common core standards for kindergarten knows the rigor placed on our little ones now.  Any kindergarten teacher understands that the levels of students' prior knowledge in literacy is vast.  Some little ones start kindergarten reading, while others struggle to learn letter sounds.  Given the huge differences among students, "differentiation" is a must in primary grade classrooms!
As teachers, we know sometimes "teacher lingo" can be intimidating to parents. Differentiation is a buzz word in education now, and it basically means, tailoring the work to meet the child's "instructional level" (which is another fancy word for the level the child is working at without frustration). Just like writing seems obvious to an adult, it can be very intimidating to a child, and even their well-meaning parents!
After pondering this, we decided to give our vocabulary flip books a makeover to help with differentiation.  Most beginning writer's workshops start with lists, so students focus on forming words without the stress of perfect grammar.  We turned these "lists" into fun seasonal and holiday vocabulary books so the work isn't a just a worksheet, rather a student-created flip book!
Below are three examples for differentiating writing and how they can be used in a classroom or homeschool. Below, check out how we differentiate with our spring writing flip book pack.  Our flip book covers the same content but focuses on different points of entry for each child.
1. TRACE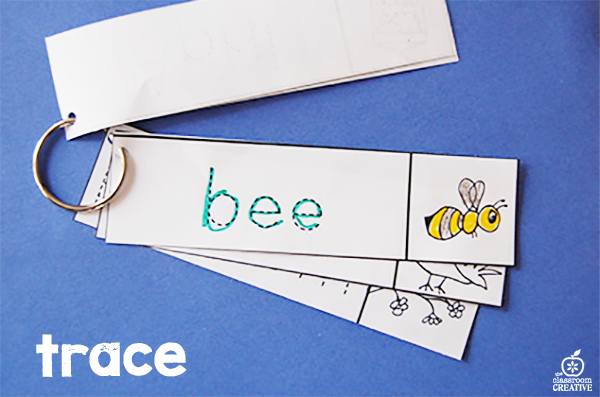 For the emerging writer who is developing "phonemic awareness" (fancy terms for knowledge of sounds to letters).  So students first read the word, trace the word, and then interact with the visual prompt of the word by coloring the black-line illustration. This method supports both visual (see the word paired with an image), tactile (tracing and coloring), and auditory (hearing the word).
2. TRACE AND ILLUSTRATE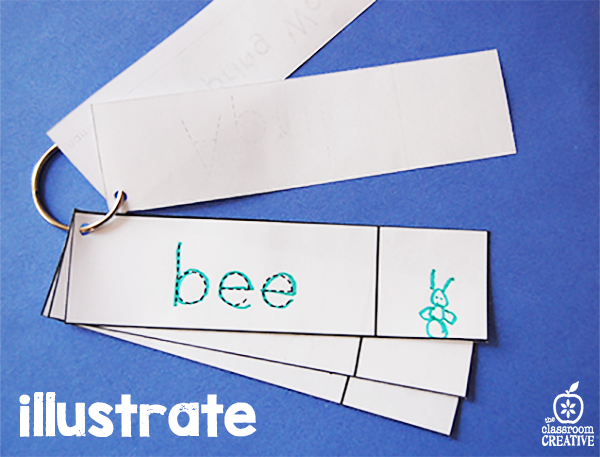 Again, this cover the skills from step one (visual, tactile, and auditory) but is better suited for students who NEED to draw to learn new vocabulary!  This differentiation supports visual learning.
3. PHYSICAL WRITING
For the more advanced writer who is in the transitional or advanced stage of phonemic awareness, this flip book allows the student to use their sound-letter correspondence to write the words as they hear them!
4. CREATE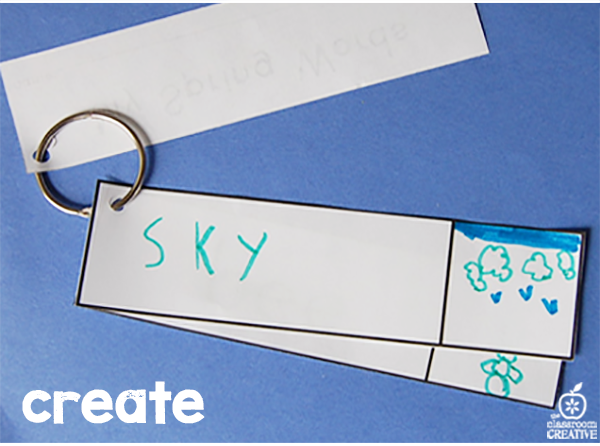 Creation is the highest point on Bloom's taxonomy, so it's the highest form of learning.  This differentiation is for your students who are fluent writers or students who need enrichment work.
Remember, every student has access to the same content, but differentiation guarantees that all students are using preferred learning styles at their instructional level.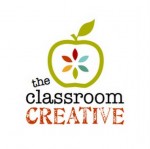 Stay connected with us at The Classroom Creative:

Happy Spring!

Karen and Nicolette
Sharing @TBA
This post may contain affiliate links to Amazon, links to our TpT shop, TN shop and Etsy shop.