As teachers, we need a variety of literacy centers to review skills and introduce new concepts.  I find that pocket chart centers work well, because the students are standing rather than sitting! The more movement we have in our classrooms, the happier the kids are. Joyful learning equates with mastery!  Here are some must-have pocket chart literacy centers I have used in my first and second grade classrooms, and in my current homeschool.
I find that the pocket chart style with illustrations work best for visual learners. It's not enough to just have the word for word walls! The horizontal wording on the pocket chart style cards makes sorting easier for students.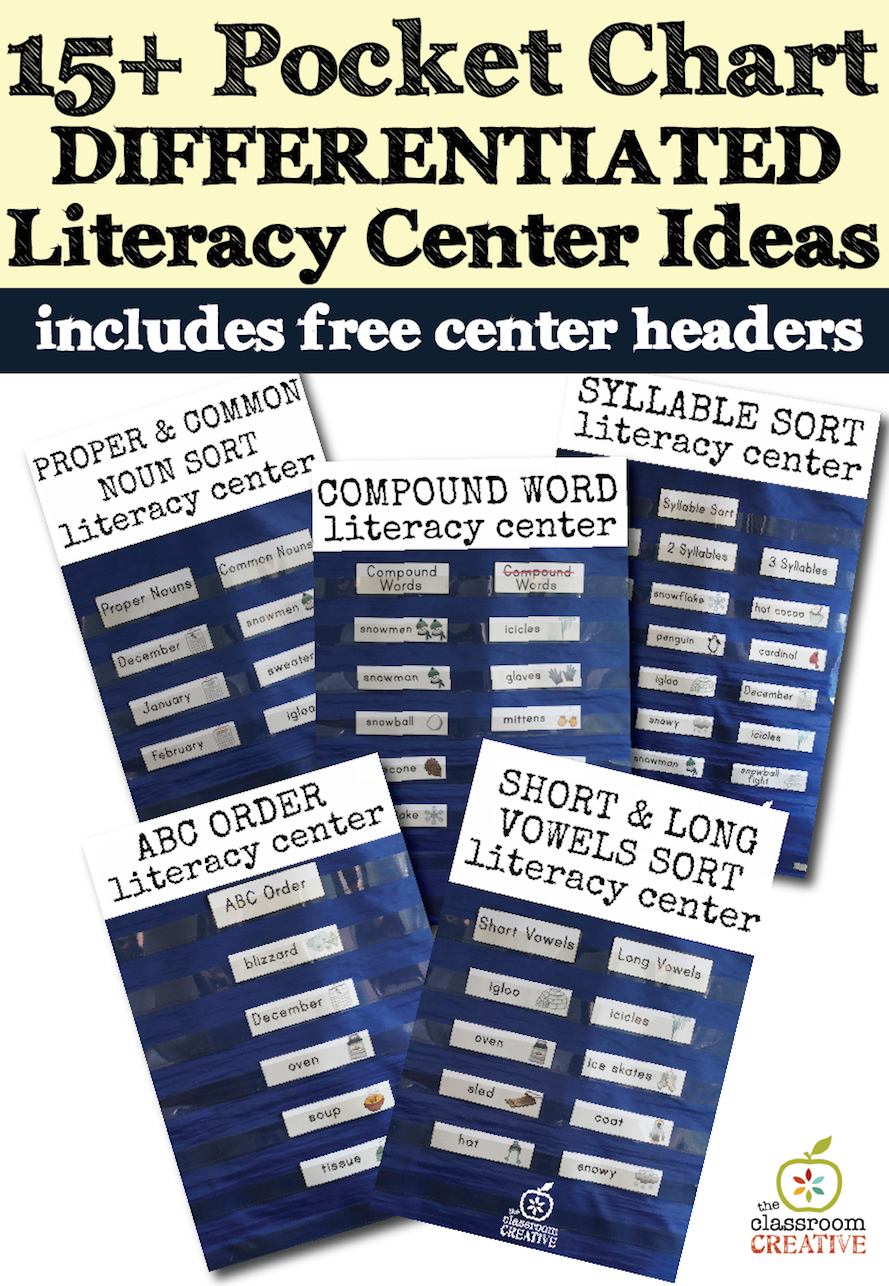 Here are some pocket chart literacy center ideas:
ABC Order:  I love this center because it helps with sequencing and can be easily differentiated.   Give students who struggle less words and words without initial blends.  Give students who need a challenge multiple words with similar blends, so they are forced to sort beyond the first letter.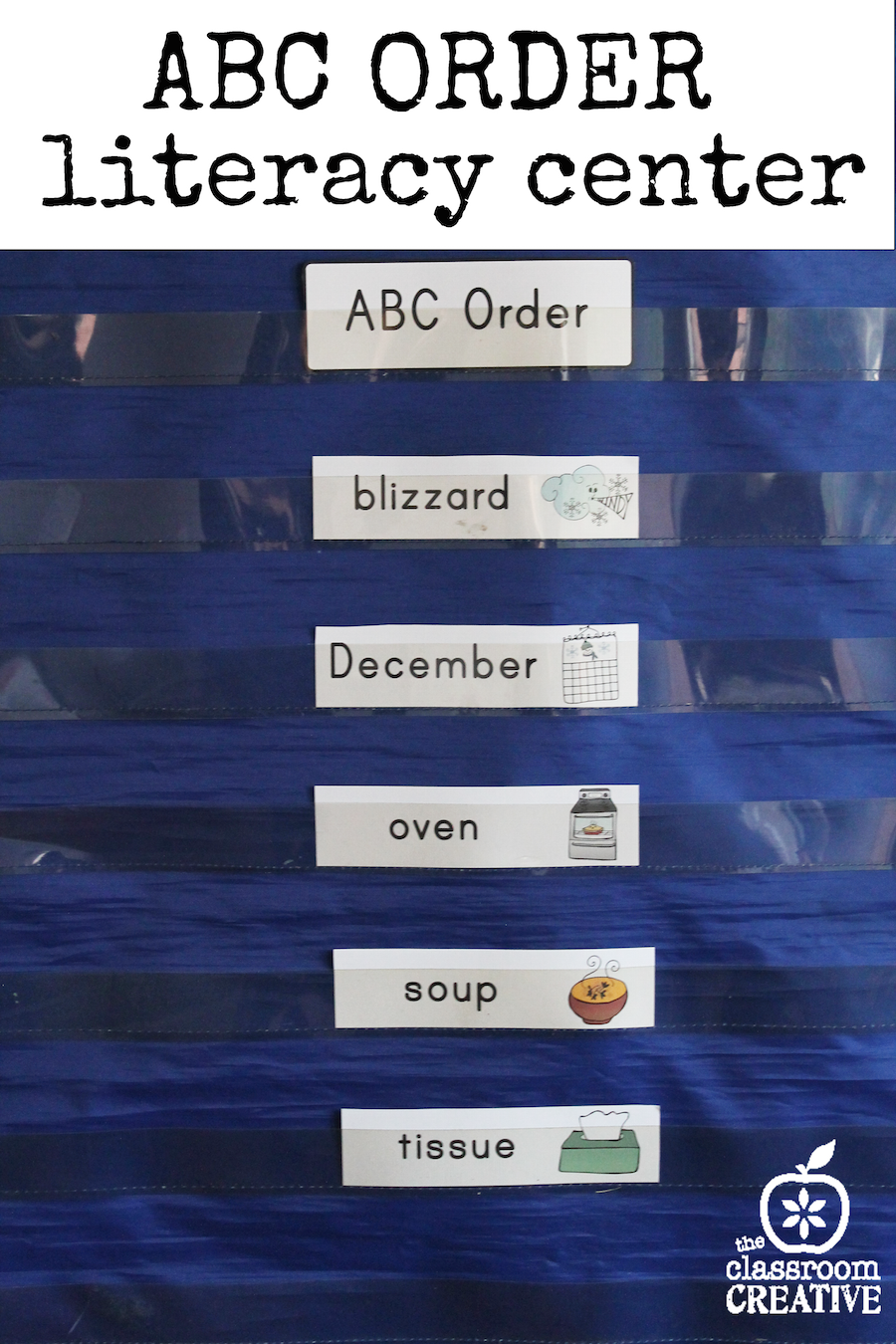 Syllable Sort: Sorting syllables is a great review for auditory learning and phonological awareness.   Keep it simple for struggling students with two categories, and make it more complex for advanced students.  We offer all levels in our free center headers pack.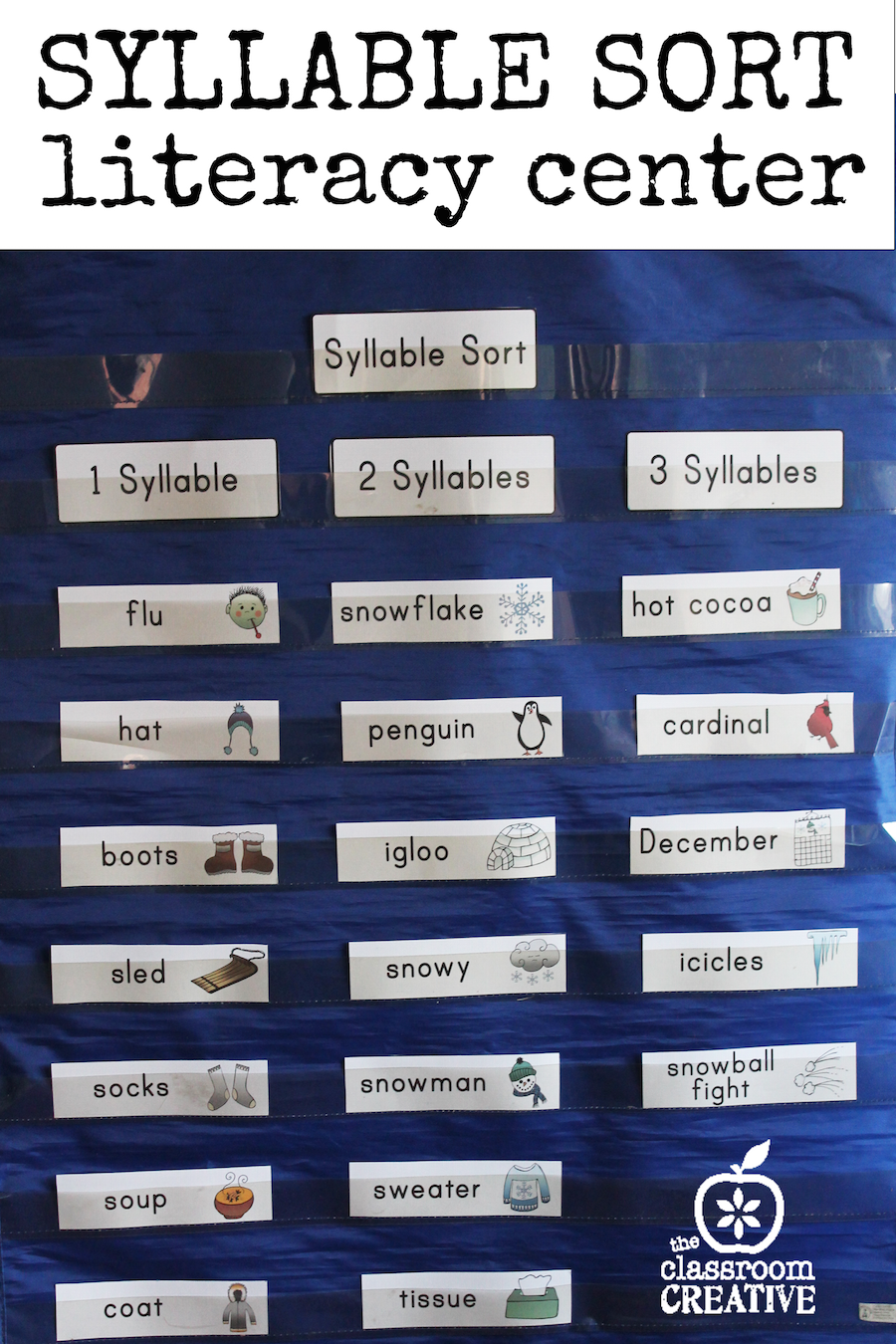 Compound Words:  This is a simple sort that all primary and early intermediate kids need to review! Students simply sort words that are compound against words that are not compound.  Again, you can differentiate this center by a student's ability.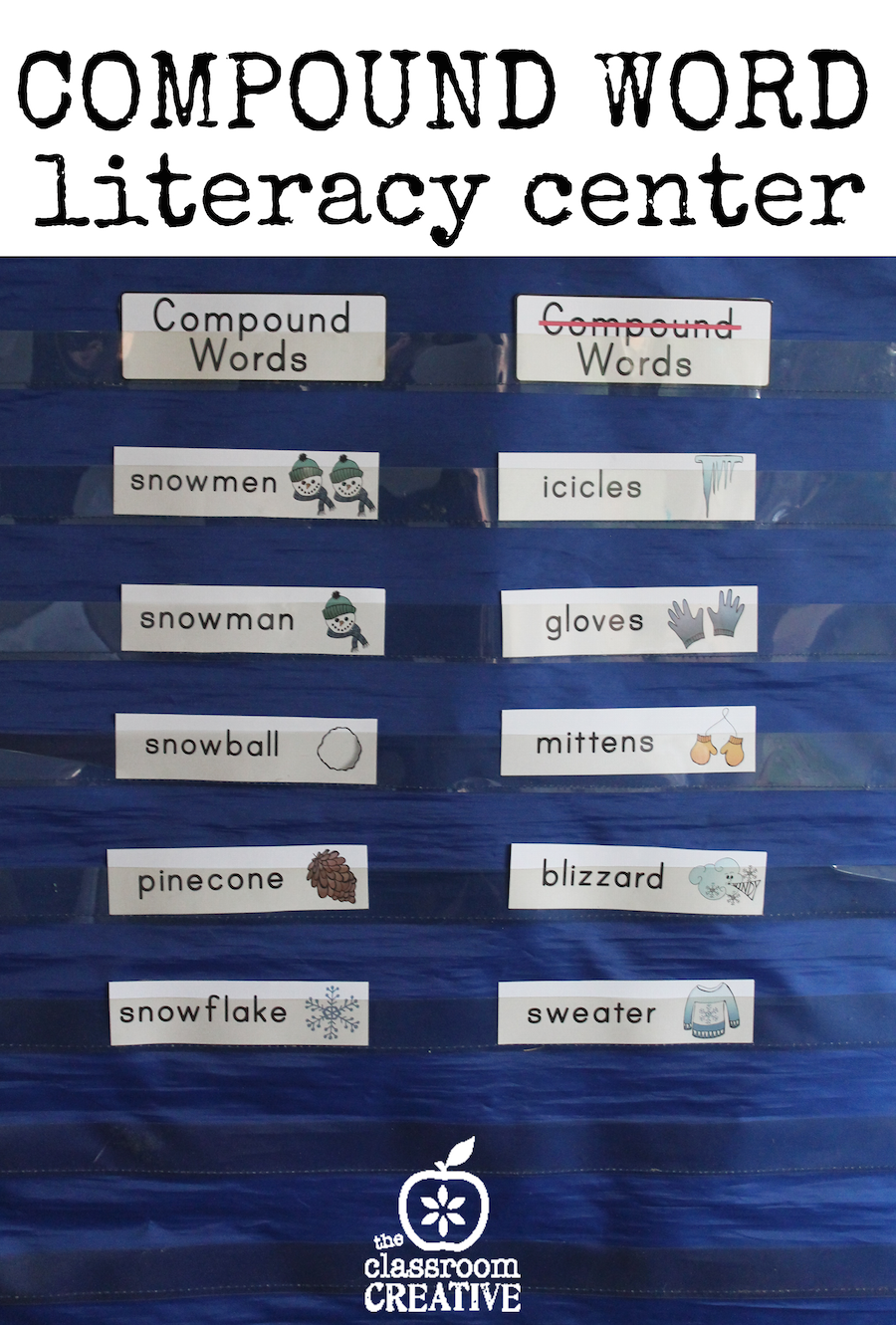 Singular vs Plural Noun Sort:  This sort helps students to see the patterns in plurals and irregular plurals.  It's a must-have in literacy centers for grammar review!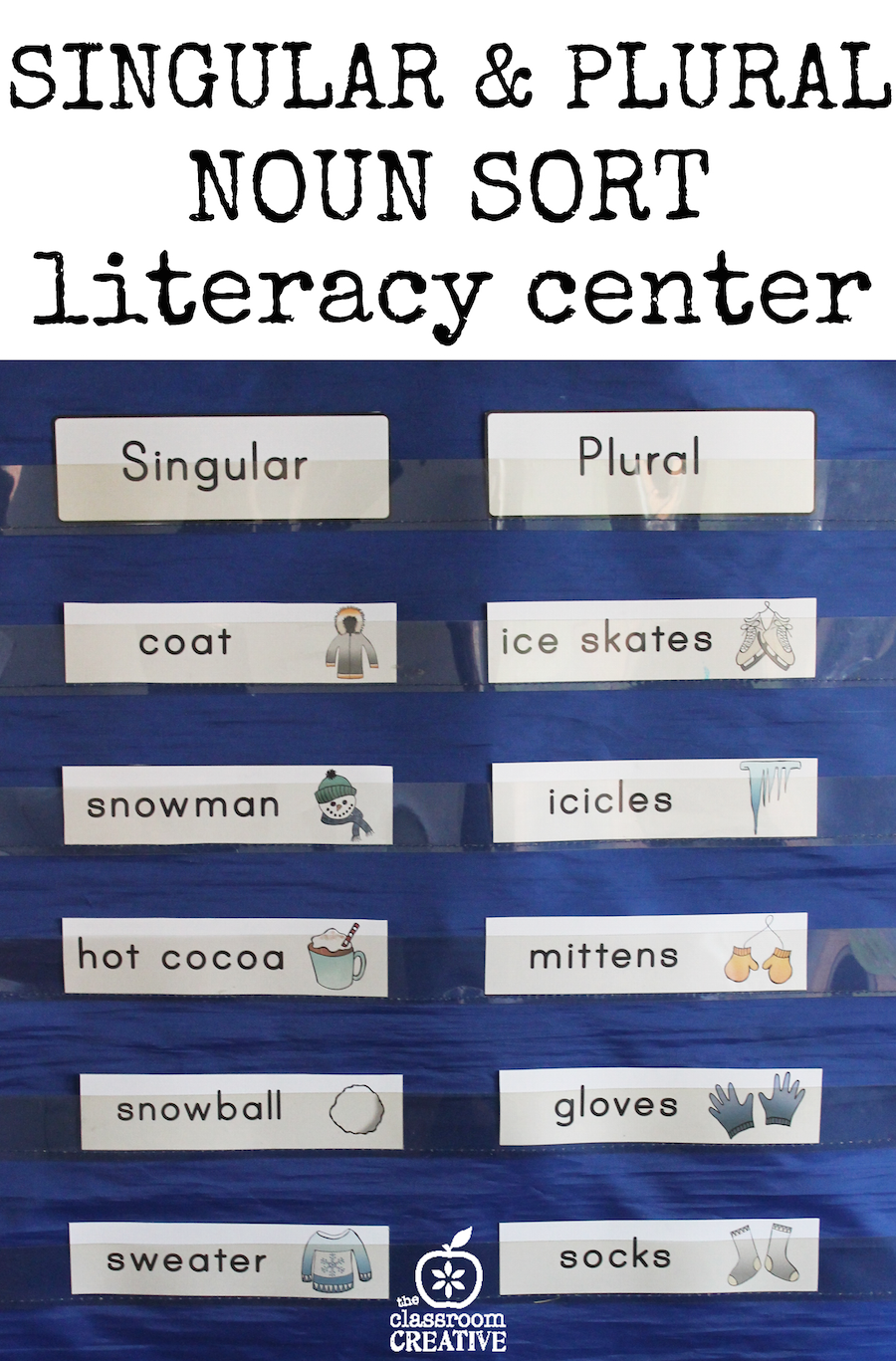 Common Nouns and Proper Nouns Sort:   Students will begin to see the pattern that proper nouns are capitalized.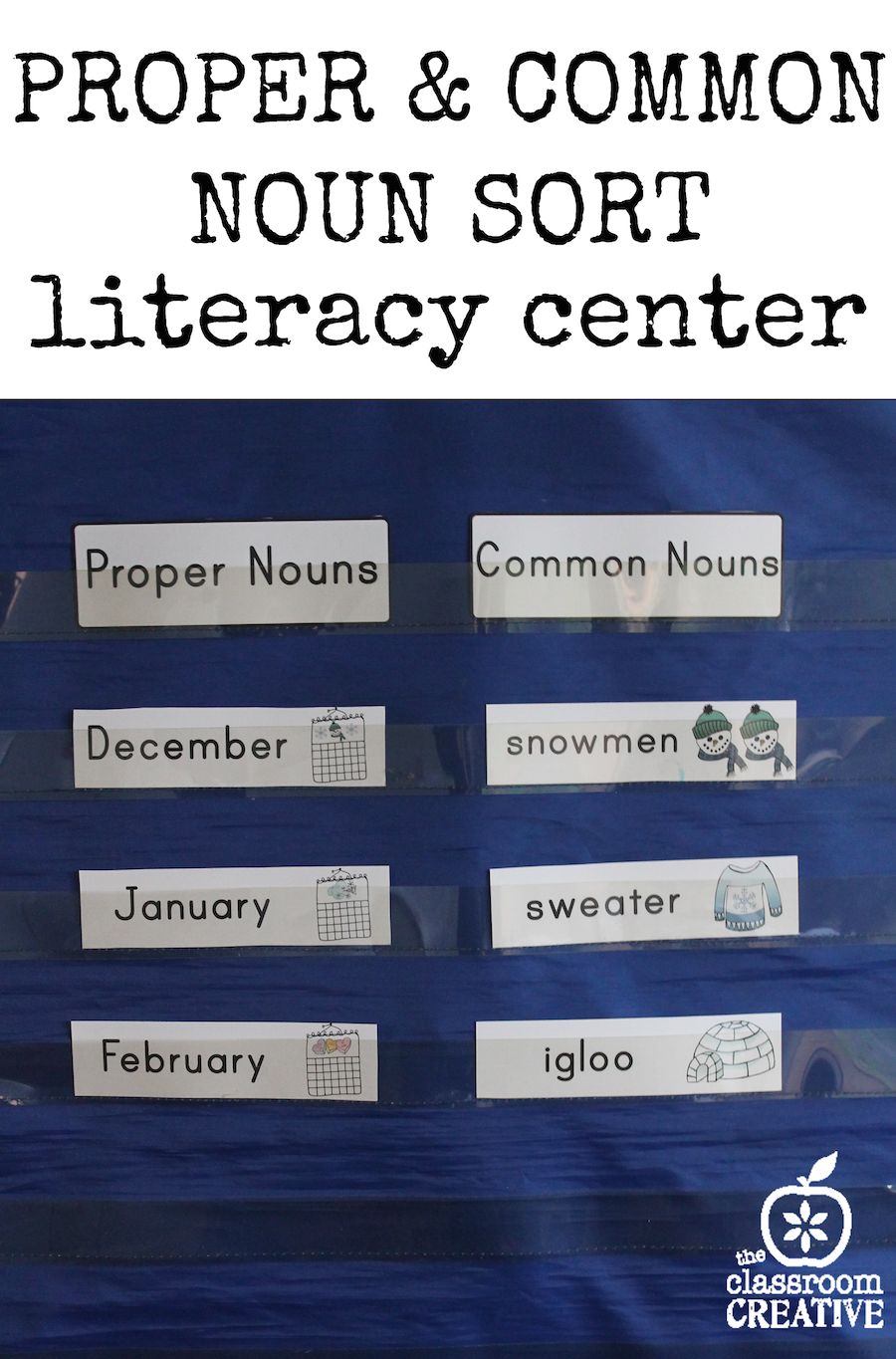 Hunt for Short and Long Vowels:  Students can also circle the target sounds with a dry erase marker.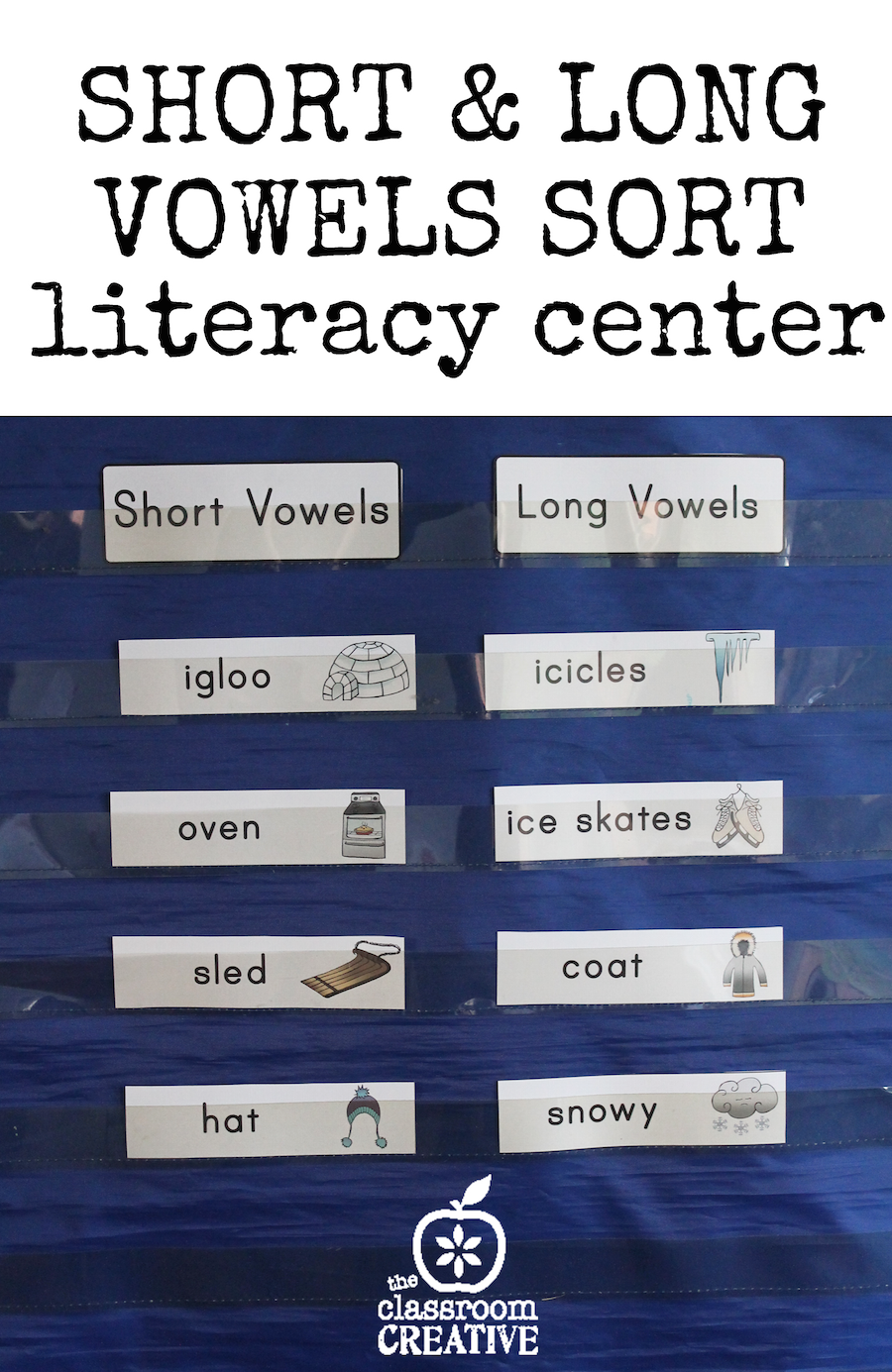 Hunt for Digraphs and Blends:  If you are targeting specific phonics sounds, have students sort a few categories of them. Then, students can extend the center by hunting and brainstorming other words with the same digraph or blend.
Here are some ideas for students with developmental delays or IEPs:
For students with IEPs:
Receptive Identification: This center is best with a 1:1 student teacher ratio.  A field of three to four cards is best to start.  Vary your prompts so students do not become dependent on the same prompt.
Expressive Identification:  This center is best with a 1:1 student teacher ratio. You can mix this center with a receptive identification center.  It's typically easier for kids with language delays to have better receptive id than expressive id.   A field of three to four cards is best to start.  Vary your prompts so students do not become dependent on the same prompt, ie: What is this?
Matching picture to picture: Print two copies of our pocket chart word wall and cut the picture from the word.
Matching word to picture:  A more advanced center for students who are beginning to read words, but who still need a picture cue or visual prompt.
Matching word to word:  Use the same set as the match picture to picture sort.
Feature, Function, Class Sorts:  Things that are Cold vs. Things That are Hot.   Things that are White vs. Things that are NOT white.  Things made with Snow vs. Things not made with Snow.   Clothes vs. Not Clothes
Sort by season or holiday:  Start with broader categories first, a max of five cards from each category: Winter words  vs. Spring words or Halloween words vs. Christmas words.   We have many illustrated word walls that have a simple white background, which make them a good fit for kids with visual processing issues.
Now, it's time for the freebie! This pack will work with any of our word walls, so print once, and change out the thematic season/holidays cards as you see fit!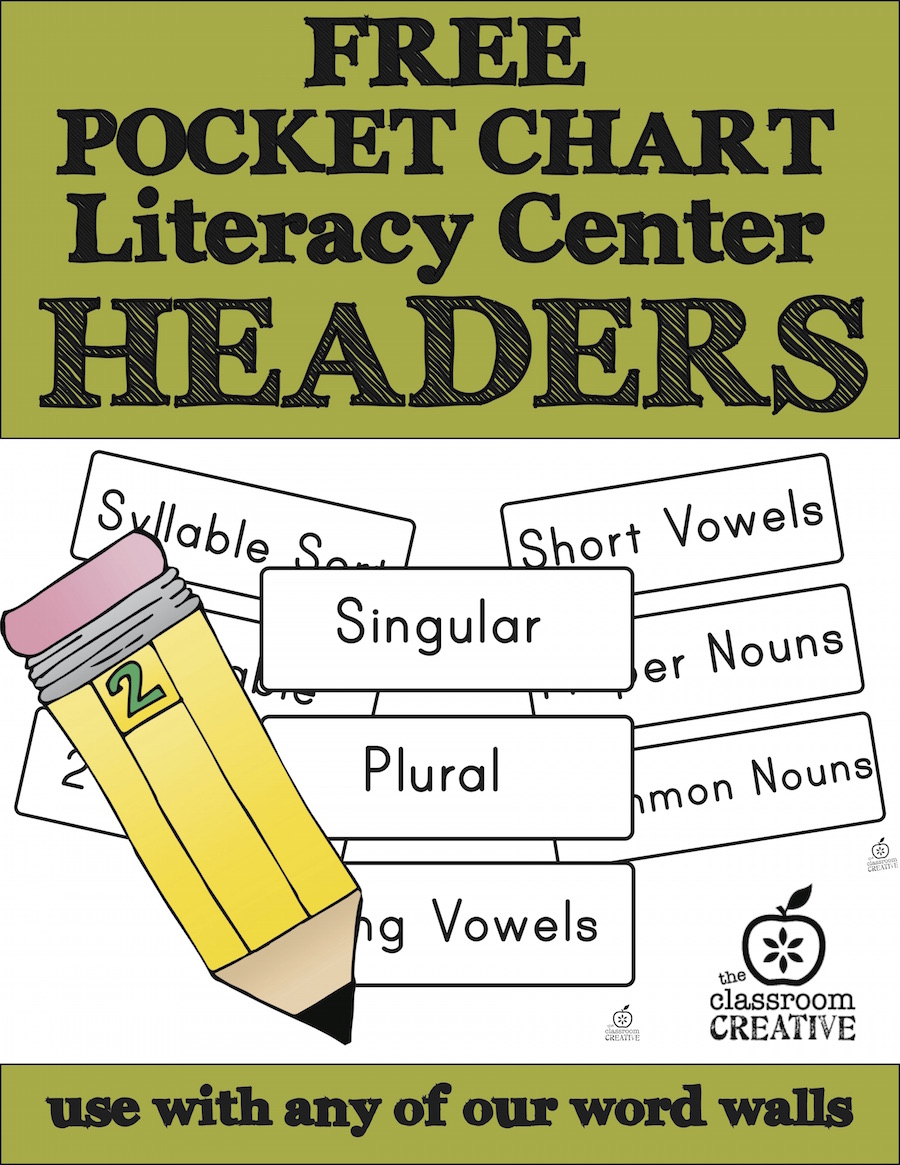 Download the free center headers for pocket charts! Enjoy! As with all our freebies, this is for personal/classroom use only.
If you download resources over at TpT, we've also added it to our shop there.
We know it's great to have all the downloads in one space! Love that TpT exists!
Be sure to check out our entire word wall collection! Keep your literacy centers fresh the entire school year for years to come!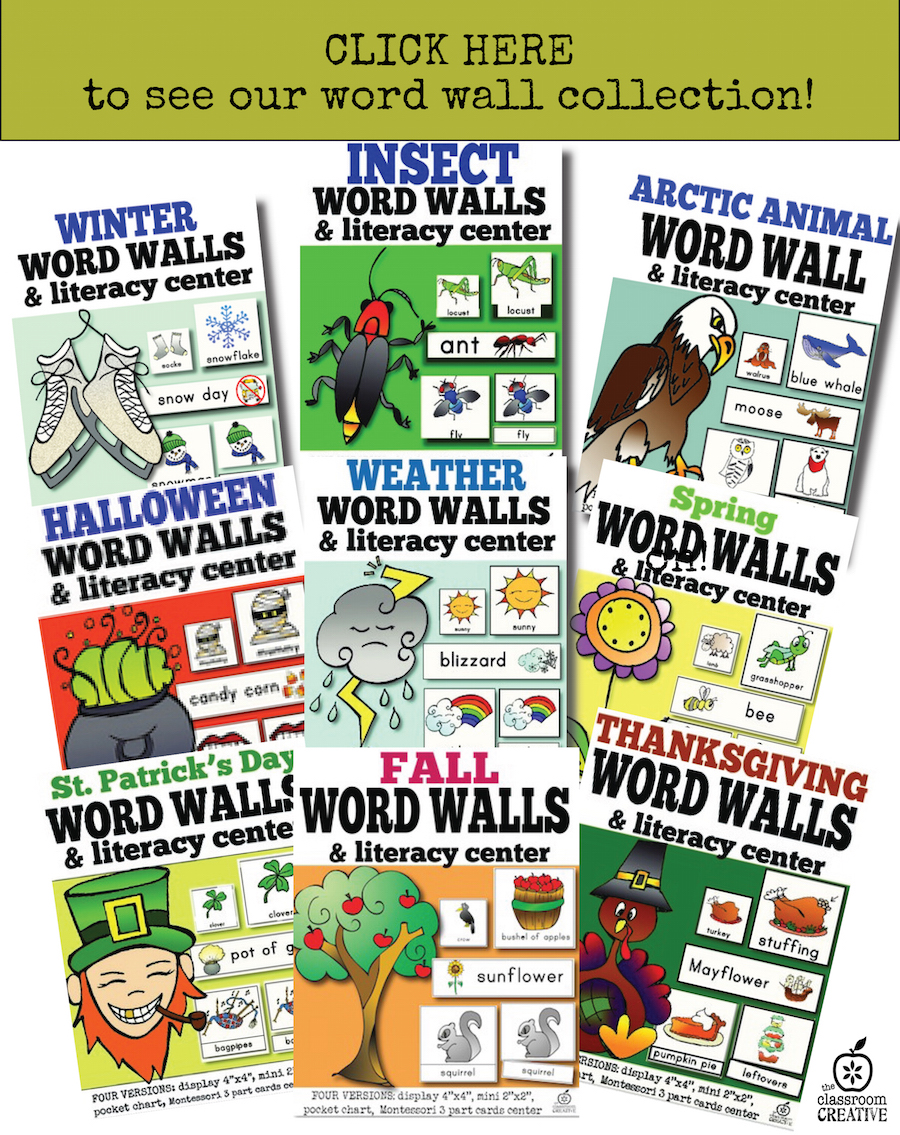 I hope some of these ideas inspire you in your literacy centers!
Stay connected with us at The Classroom Creative:
Now, go make some literacy centers!
Nicolette
Sharing @TBA